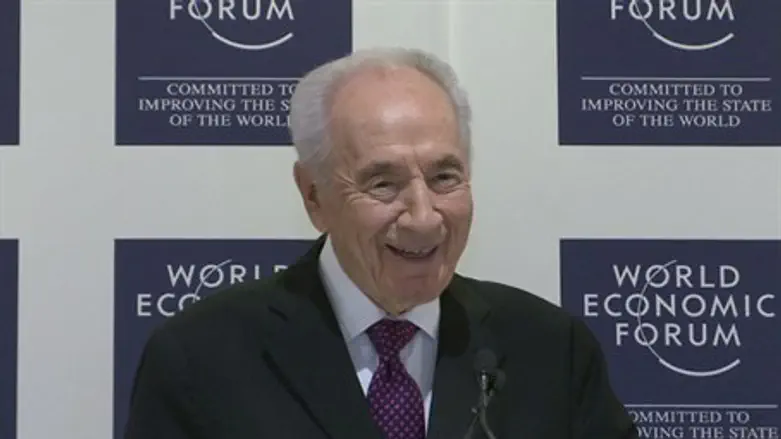 President Shimon Peres, World Economic Forum
Flash90
President Shimon Peres received the "spirit of Davos award" at the World Economic Forum Friday, Channel 2 reports. 
The award, which was given to Peres for his "global leadership," was shaped in a bell. The text reads, "to President Shimon Peres, a unique visionary and global statesman for tolling the bell of peace and harmony." 
"I would like to take this bell, with your permission, around the Middle East and toll it for peace," Peres joked, upon receiving the award. "Even if we have this bell, we have to use it." 
The award comes just 2 days after Peres pushed Israel toward an interim agreement once again, stating that the demand for the Palestinian Authority to recognize Israel as a Jewish State is "unnecessary."Peres has stated that "peace" is attainable in the current talks, and has pressed Israel to make enormous concessions, threatening that if it doesn't do so it "would be tragic for the Middle East. The situation in the Middle East can flare up overnight if the talks fail."
When asked what he will do after stepping down in July, Peres declared that he does not plan on disappearing from the public eye. "If you ask me to describe myself, I would say that I'm an optimist and never satisfied," he stated.  "A good Jew can never be satisfied. Enjoyment stems from the work done, not from rest." 
Relating to the address of Iranian President Hassan Rouhani, Peres stated, "nothing in the world is going to stop the Iranians from investing in their nuclear program." He claimed that "Iran is not an enemy to Israel, and we are not interested in starting a war with them," and that Israel's problem with Rouhani is that "when asked if he turns to the rest of the world in peace, he only answers with a smile and that is not enough." 
Peres's remarks build on criticism he launched at Rouhani Thursday, slamming the Islamic Republic's president for smooth-talking world powers in his speech at the forum. 
"The most significant remarks were the ones he didn't make - he didn't express support for peace in the Middle East," said Peres. "He is the only leader I know who didn't say clearly the time has come to make peace between Israel and the Arabs. He excluded the reference to peace and when he was asked if his vision included all countries he said it included only the ones that Iran will accept, that is some definition."
In addition, said Peres, "he didn't announce that in order to reduce the bloodshed in Syria he's going to stop sending arms and money to Hezbollah to the stop the killing, he could have announced that seeing as he doesn't want a nuclear bomb that he will stop building long range missiles capable of carrying nuclear warheads."
"He didn't announce that Iran will stop being the center of terror in our time," he continued. "We can see their fingers in many terrible pies that endanger lives."
"As far as Israel is concerned we are ready to make peace with the Iranian people, historically they have never been our enemies. We extend our hand for peace, including to the Iranian people, but today was a great occasion that was missed."