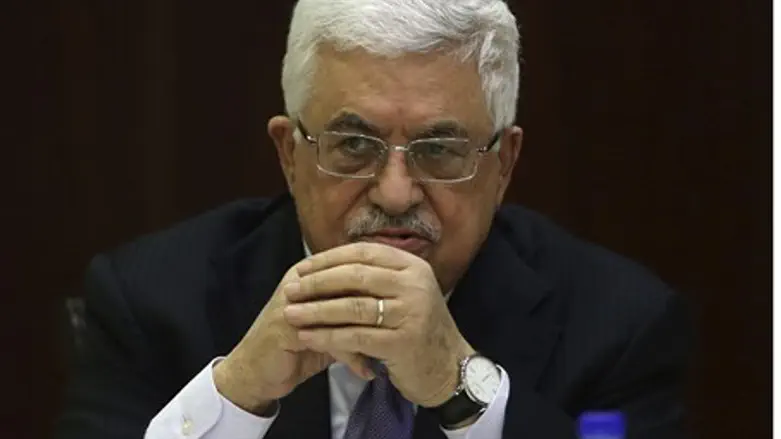 PA Chairman Mahmoud Abbas
Reuters
Palestinian Authority (PA) Chairman Mahmoud Abbas warned on Friday against Israel using peace talks as a "cover" to "expand settlements" in Judea, Samaria, and Jerusalem, AFP reported.
Abbas was speaking in Morocco at a meeting of the Al-Quds (Jerusalem) Committee. The meeting comes days after Israel announced tenders for construction of more than 1,800 new homes in regions which the PA claims for a future state.
The U.S.-brokered peace talks must "not serve as a cover for the expansion of Israeli settlements in the occupied Palestinian territories," said Abbas, according to AFP.
"There can be no peace without stability, nor agreement without occupied east Jerusalem being recognized as the capital of the Palestinian state," he declared.
The Al-Quds Committee was founded by the pan-Muslim  Organization of Islamic Cooperation in 1975, and it aims "to resist the confiscation of Palestinian land and assets in Jerusalem."
Speaking at the opening of the two-day meeting in Marrakesh, Morocco's King Mohamed VI, as president of the committee, called for "a strong mobilization of our own means and resources... to defend the Holy City."
Previous announcements on construction have also raised the ire of the PA, which demanded that Israel cancel any tenders it has issued for new construction or the talks would be over.
The PA has repeatedly slammed Israel's planned construction in Judea, Samaria and Jerusalem, despite the fact that it was informed in advance that Israel will continue to build as talks continue. The areas in which Israel plans to build are areas that even the PA has previously accepted will be part of Israel in a future deal.
Abbas's comments regarding eastern Jerusalem being the capital of the future Palestinian are also nothing new. Just last week, Abbas told a delegation  that there will be "no peace between us and Israel" without eastern Jerusalem as the capital of the future Palestinian state.
"Let them say whatever they say. Unless it is mentioned clearly and marked in big fonts that it is the capital of the state of Palestine, there will be no peace with them and I want them to hear this," he declared.
"Our language is understandable. We have been hearing lots of talks about the capital here and there. The capital is Jerusalem and its surroundings in Jerusalem which were occupied in 1967," he said, highlighting that he is adhering to a stance that has long been official policy.
Israel's construction has also angered the European Union, which responded by summoning Israeli ambassadors in London, Rome and Paris.
Prime Minister Binyamin Netanyahu subsequently slammed the European Union for summoning the envoys.
"This is hypocrisy. The EU calls our ambassadors in because of the construction of a few houses? When did the EU call in the Palestinian ambassadors about incitement that calls for Israel's destruction?" Netanyahu asked foreign correspondents at his annual new year reception.
"It's time to stop this hypocrisy," he said. "This imbalance... doesn't advance peace, I think it pushes peace further away."
(Arutz Sheva's North American Desk is keeping you updated until the start of Shabbat in New York. The time posted automatically on all Arutz Sheva articles, however, is Israeli time.)