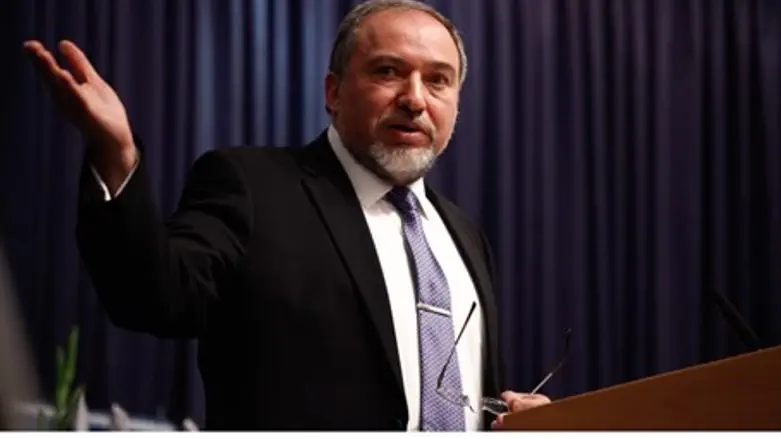 Avigdor Liberman (illustrative)
Flash90
Foreign Minister Avigdor Liberman summoned European Union (EU) ambassadors on Friday over continued support of - and bias for - the Palestinian Authority (PA) in negotiations.
Liberman's call came in response to the EU's calls on Israel's envoys Thursday to explain Israel's continued construction in Judea and Samaria.  
Liberman "ordered to summon the ambassadors of the UK, France, Italy and Spain and stress to them that their perpetual one-sided stance against Israel and in favor of the Palestinians is unacceptable and creates the impression they are only seeking ways to blame Israel," his spokesman said in a statement.
"Beyond being biased, unbalanced and ignoring the reality on the ground, the positions held by these states significantly harm the possibility of reaching some sort of agreement between the sides," the statement read.
An Israeli official told AFP that calling in ambassadors for the same day was a rare move indicative of the degree of offense caused.
Liberman's actions follow a condemnation of the EU by Prime Minister Binyamin Netanyahu Thursday, whereby he called the EU's silence on the PA's incitement against Israel - and harping on Israel for building Jewish homes - "hypocritical." 
"This is hypocrisy," Netanyahu stated. "The EU calls our ambassadors in because of the construction of a few houses? When did the EU call in the Palestinian ambassadors about incitement that calls for Israel's destruction?" Netanyahu asked foreign correspondents at his annual new year reception.
"It's time to stop this hypocrisy," he said. "This imbalance... doesn't advance peace, I think it pushes peace further away."
Deputy Foreign Minister Ze'ev Elkin also fired at the EU Friday, citing their "hypocrisy" for another reason: their support of the occupation of Northern Cyprus. 
"The EU supports the occupation of Northern Cyprus, because it is an EU member state, but refuses to fund Israel's communities 'over the Green Line'," he stated to Kol Yisrael Radio.
As noted in November, the EU also allows its members to fish in the occupied Western Sahara. 
The European Union has been unrelenting in its criticism of Israel's construction in Judea and Samaria. The EU promotes boycotts of products made beyond 1949 Armistice lines, and has effectively redrawn Israel's borders to those lines in policies to its member states.
Recently, the EU has gone so far as to offer "unprecedented" aid packages to both Israel and the PA in the event that a two-state solution - and a withdrawal - results from negotiations.