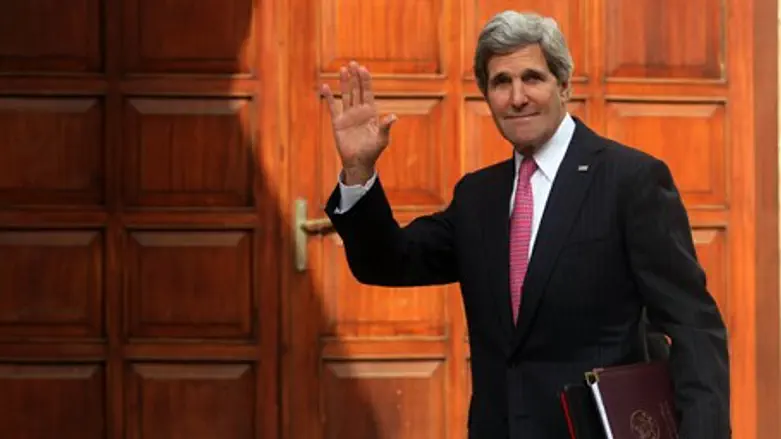 John Kerry
Flash 90
The Judea and Samaria (Yesha) Council is launching a new campaign against the US-imposed negotiation process with the Palestinian Authority (PA), which nationalists fear is pushing Israel toward disastrous concessions.
The campaign follows on the heels of a successful video by Yisrael Sheli (My Israel) and the Binyamin Regional Council, which mocked US Secretary of State John Kerry with a fake commercial for a firm called "Kerry Solutions," in which Kerry is portrayed as a con artist who offers "solutions" which make people's problems worse.
The slogan of the new campaign is "Keep the Country Safe – Don't Surrender to Kerry."
The people behind the campaign explained that its purpose is to isolate Kerry and support Prime Minister Binyamin Netanyahu, at least as long as he stands up to Kerry and defends Israel's interests.
The campaign shows past Israeli prime ministers from both Labor and Likud making pronouncements that contradict Kerry's positions, regarding a viable solution to the conflict with the PA.
Ariel Sharon is shown saying, "Jerusalem is not a matter for negotiation, and I do not intend to divide Jerusalem."
Yitzhak Rabin is seen stating that "The security border for the defense of the state of Israel will be set at the Jordan Valley, and in the widest sense of that term."
The campaign seeks to show that Kerry has not been an honest broker – and to remind Netanyahu that his predecessors opposed concessions of the kind Kerry is trying to pressure him into making.
On Friday, activists from the Yesha Council will stand at 30 junctions throughout Israel and hold signs with the slogan – "Keep the Country Safe – Don't Surrender to Kerry."
Yigal Dilmoni, Yesha Council Deputy Director, said that "the prime minister bears heavy responsibility and continues the path of the leaders of Israel, who drew red lines and did not overstep them despite the American threats."