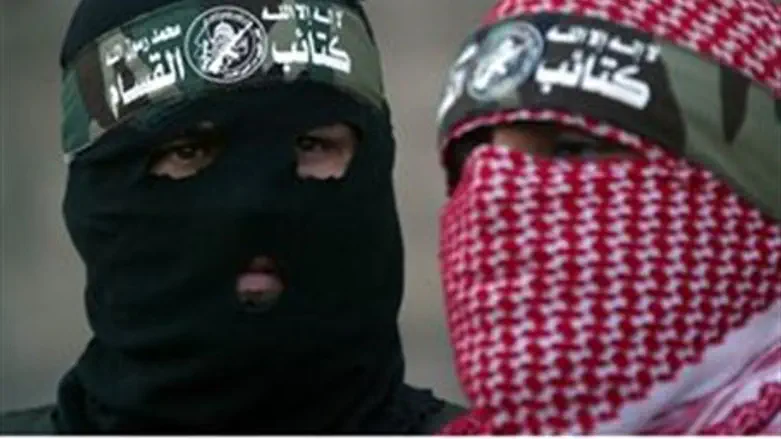 Terrorists (illustration)
Flash 90
Terrorists on Wednesday evening opened fire from a moving vehicle at a resident of the Shomron (Samaria) community of Havat Gilad (Gilad Farm), who was driving on the road near the community.
The resident was not hurt but his vehicle sustained damage. IDF forces began searching the area in an attempt to locate the shooters.
Moments before this attack, Arab terrorists threw rocks at an Israeli vehicle that was traveling near Beit Haggai, near Hevron.
There were no injuries in this incident either, but the vehicle sustained damage.
In recent weeks, Arab terrorists have carried out numerous attacks in Judea, Samaria and Jerusalem. Many of these attacks, which have become "routine", are usually ignored by the mainstream media unless someone is seriously hurt or killed.
On Tuesday, for example, Rabbi Yitzhak Cohen whose son Neria Cohen was murdered in the Mercaz HaRav attack in 2008, was violently attacked by Arab youths as he visited his son's grave on the Mount of Olives.
Rock attacks can be lethal, as was the case in an attack in September of 2011 which targeted Asher Palmer and his infant son Yonatan. The two were killed when an Arab terrorist hurled large rocks at their car.
In another incident nearly a year ago, three-year-old Adelle Biton was critically wounded in a rock terror attack in Samaria.
In November, two-year-old Avigail Ben-Tzion was seriously injured by Arab rock-throwers in Jerusalem. The attackers began by hurling a firebomb into the road, with the aim of causing an accident and to block the path of oncoming traffic, and then proceeded to pelt oncoming traffic with large rocks as the vehicles sped up to escape the ambush.