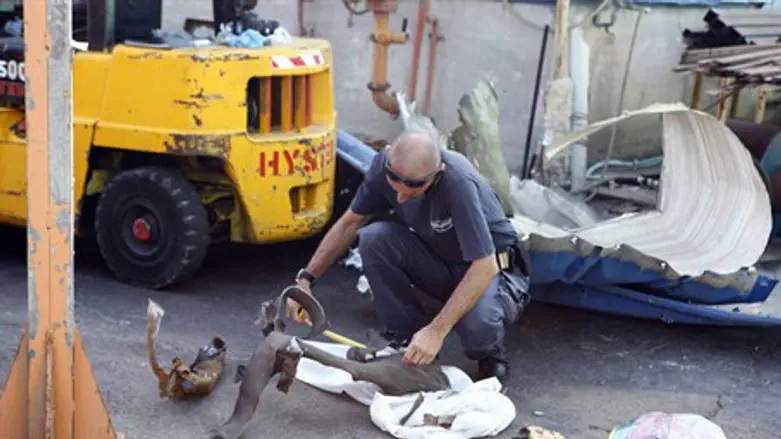 Rocket damage in Sderot (archive)
Israel news photo: Flash 90
Israel's ambassador to the United Nations, Ron Prosor, on Tuesday complained to the Security Council and to UN Secretary-General Ban Ki-moon over Monday's rocket fire by Gaza terrorists after the funeral of former Prime Minister Ariel Sharon.
Shortly after Sharon's funeral, Gaza terrorists fired two rockets at the Negev. The rockets hit an area north of Sderot, causing no physical injuries or damages.
Sharon was buried at the Shikmim Farm which is located in an area of the Negev often targeted by Gaza terrorists. The Iron Dome anti-missile system was deployed to protect participants at the funeral.
In his letter, Prosor wrote, "While a nation grieved its fallen leader, rockets began falling a short distance from the funeral service."
"In recent days, many people recalled the brave and decisive steps Sharon took to strengthen Israel and provide Palestinians in the Gaza Strip with the opportunity to build a better future," he added, referring to Israel's unilateral "Disengagement" from Gaza in 2005 which was orchestrated by Sharon.
"Instead, since 2005, Gaza has become a terrorist base used by Hamas to shoot rockets, carry out kidnappings, and launch attacks on Israeli citizens," wrote Prosor.
"Israel holds Hamas responsible for the recent escalation in violence. I urge the Security Council to condemn Hamas's attacks, loudly and clearly, before the situation escalates."
The UN envoy warned in the letter that "Israel has thus far shown considerable restraint, but it will not allow its citizens to be the ongoing victims of attacks and will continue to take all necessary measures to protect its population."
Even though many of the rocket attacks originating from Gaza do not result in damages to property or physical injuries, many residents of the affected areas - particularly young children and seniors - have been diagnosed with post-traumatic stress disorder (PTSD) as a result of the incessant attacks.
The Cabinet recently approved a 166 million shekel plan for economic benefits for Sderot and the area adjacent to Gaza.
The 2014 plan includes a series of benefits for residents of the area: Tax benefits, local property tax benefits, exemptions from leasing fees, daycare benefits, investments in infrastructures and local authorities, benefits for industry, agriculture, trade and employment, and expanded medical and social welfare services.