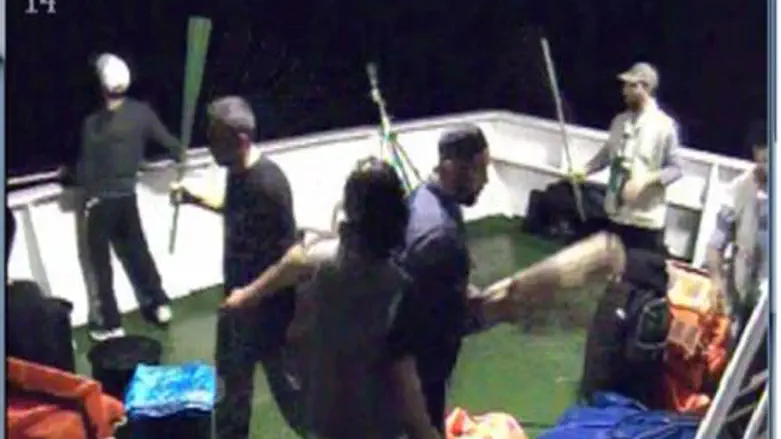 IHH terror activists preparing to attack IDF
IDF Spokesperson's Office
Turkish anti-terror police on Tuesday raided the offices of an Islamic charity in what the organisation branded a "smear campaign" linked to the corruption scandal embroiling the government.    
The Humanitarian Relief Foundation (IHH), which has been accused of trying to smuggle arms to Syria, said the police raids were part of a wider operation against Al Qaeda in Turkey, but this could not immediately be confirmed.    
The group charged that the IHH, considered very close to the government, was a victim of the feud between Prime Minister Recep Tayyip Erdogan and a powerful exiled Islamic preacher at the root of the burgeoning political crisis.    
Police searched IHH premises in the southern town of Kilis near the Syrian border in an early morning operation that vice president Huseyin Oruc branded a "dirty plot" - echoing Erdogan's description of the corruption probe that has targeted key members of his inner circle.    
One person was detained in the raid by local counter-terrorism police units who also tried to confiscate documents and computers, the IHH said.  
IHH officials said their group been targeted as part of a police operation against Al Qaeda in six Turkish cities, but this was not immediately confirmed by Turkish police or government officials.    
"This smear campaign is backed by people inside and outside Turkey," IHH secretary general Yasar Kutluay told AFP, without elaborating.  
"We certainly associated this operation with the corruption scandal. It is not only about IHH. They want to brand Turkey as a country which supports terrorism and want it to be tried before international courts," he said.    
The police operation came a day after President Abdullah Gul held a round of meetings with top political leaders including Erdogan to try to defuse a brewing row over a government bid to curb the powers of the judiciary.    
The legislation proposed by Erdogan's Islamic-rooted government is seen by critics as a bid to head off the widening corruption probe that has seen the detention of business leaders, civil servants and the sons of cabinet ministers, and which has seriously shaken the rule of Erdogan and his Islamist AKP party. Last month, the Turkish PM replaced half his cabinet, following a slew of high-profile resignations.   
IHH denies links with Al-Qaeda    
Erdogan says the investigation is a deliberate plot to weaken his government ahead of key local elections in March and has purged hundreds of police and prosecutors involved. He blames supporters of erstwhile ally Fethullah Gulen, an Islamic cleric with close ties to the judiciary and the police who fell out with the government after it unveiled plans to close a network of private schools run by the Gulen movement, also known as "Gulenists".    
The IHH, which has been accused of shipping arms to rebels in Syria, denied any link between its staff and Al Qaeda. However, pressure has been mounting on both Islamist group and the Islamist-led Turkish government of late, as accusations fly over the role in which Turkish Islamists - both within government and outside of it - are playing in supporting Islamist rebels in northern Syria.
On January 1, Turkish media reported that security forces had seized a truck loaded with arms and ammunition on the Syrian border and arrested three people, including a Syrian.    
The drivers claimed they were carrying aid on behalf of IHH but the group denied the allegations as "slanderous".    
Interior Minister Efkan Ala also denied the reports in parliament, saying the truck was shipping aid to the Turkmen community.    
The Turkish government has repeatedly denied it is involved in sending weapons to rebels fighting the regime of President Bashar al-Assad.    
However, in December it emerged that Turkey had shipped a total of 47 tons of arms to the rebels since June last year alone. After initially denying that report, the Turkish Foreign Ministry eventually admitted that the figure - cited in Turkish media and based on a UN report - was indeed accurate, but claimed that the weapons in question were shipped to Syria "for sports uses", not for use in the raging civil war there.
Media reports also said Friday that police had seized two buses near the Syrian border that were carrying weapons and ammunition secreted in the baggage hold.    
IHH is the same organization that was behind the infamous 2010 flotilla aimed at breaking Israel's naval blockade of Hamas-controlled Gaza. Nine Turkish Islamists were killed in the Israeli raid on the IHH's Turkish-flagged Mavi Marmara, after extremists attacked Israeli security personnel as they boarded the ship. That incident helped send relations with Turkey, once Israel's closest Muslim ally, to an all-time low.
Israeli Foreign Minister Foreign Minister Avigdor Liberman this month described IHH as a threat to the interests of the Jewish state.