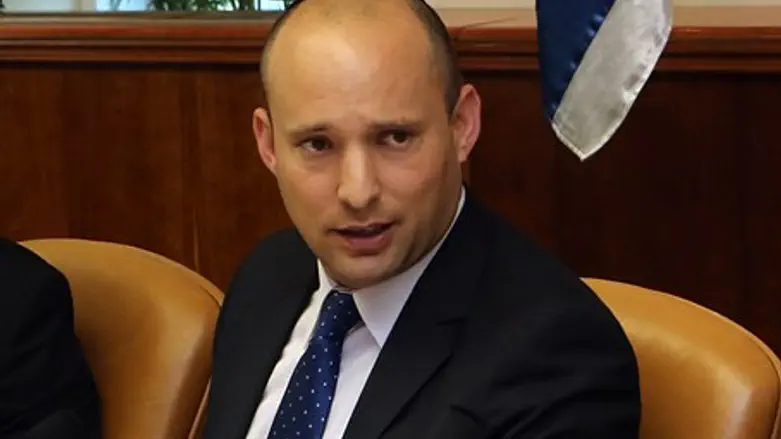 Naftali Bennett
Flash 90
Jewish Home Chairman Naftali Bennett expressed his sorrow over former Prime Minister Ariel Sharon's death Saturday. According to Bennett, "Sharon always was at the decisive point, he was a great military leader who rose for the state of Israel."
Bennett recounted Sharon's military career. "In the Six Day War Sharon commanded a division in one of the most shining missions in the history of the IDF," praised Bennett, speaking of Sharon's leadership in the battle at Umm Katef and Abu Ageilah which is considered to be a masterpiece of military strategy.
"In the Yom Kippur War, after weeks of failures, he brought about the turning point by encircling the (Egyptian) Third Army...in that war Sharon saved the state of Israel," claimed Bennett.
"After the Palestinian intifada (terror war) Sharon initiated Operation Defensive Shield, an operation that proved that terror can be subjugated by force," added Bennett. "During all his years in the defense of Israel instead of responding and hiding behind defense, he struck and created deterrence, and for that the people of Israel owe him a great debt."
Bennett went on to mention Sharon's controversial actions in 2005 as a politician.
"In the end of his days (Sharon) initiated and carried out the 'Disengagement' plan - the destruction of Gush Katif and the expulsion of 8,000 of its residents," noted Bennett. "This evening let us remember his great acts, and leave aside dispute over his end to other days. May his memory be a blessing."
Director-General of the Knesset Ronen Plaut will lead a meeting of the Knesset management Saturday night at 10 p.m. to discuss preparations to place Sharon's coffin in the Knesset on Sunday, and to have local and world leaders arrive for a memorial service.
The White House announced Saturday that US Vice President Joe Biden will lead US representatives attending Sharon's memorial service. Biden said in a statement "I look forward to leading the US delegation to his memorial service, to pay respects to the man and to pay tribute to the unshakeable partnership between the United States and Israel."
Sharon will be buried beside his wife's grave on Monday at Anemone Hill in Havat Shikmin, located in Hod Hasharon in central Israel.