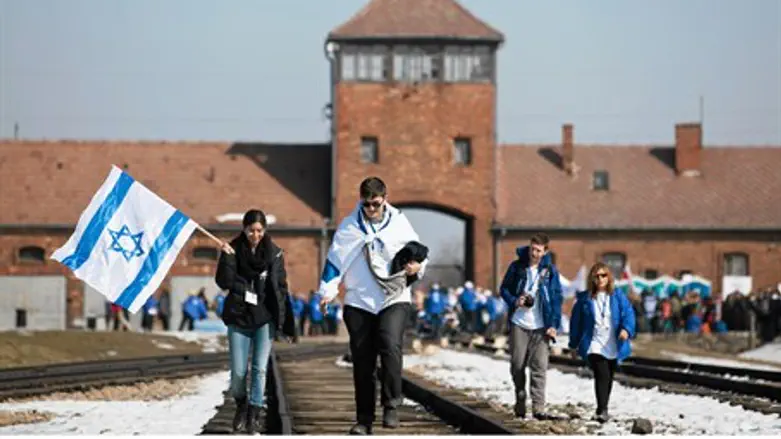 Jews carry Israeli flags at Auschwitz
Reuters
Poland's conservative opposition on Friday called for use of the erroneous term "Polish death camp" in reference to Nazi German facilities to be punishable by jail time, AFP reports.
Users of the term could get up to five years in prison, according to a bill introduced in parliament on Friday by the Law and Justice party.
Lawmakers voted to have it sent back to committee for more work.
The phrase, a reference to former Nazi German death camps located in occupied Poland during the Second World War, has long been a sore spot for Poles and was even at the centre of a high-profile row with the U.S. in 2012.
Warsaw notes that though the word "Polish" may be used as a simple geographical indicator in the phrase, it could also give off the impression that Poland bears responsibility for the genocide perpetrated by Nazi Germany during the war.
Poland ceased to exist as an independent state after the Nazis attacked it in 1939. It was not until 1945, after the USSR drove the Nazis out, that it re-emerged as a Soviet satellite.
For years, the Polish government has kept a close eye on references to the concentration camps located here, including those made by the international media.
In 2012 alone, noted AFP, the foreign ministry recorded at least 130 uses of the term by media around the world.
That same year, U.S. President Barack Obama provoked outrage in Poland when he used the phrase while posthumously awarding a medal to a former Polish underground officer Jan Karski who provided early eyewitness accounts of Nazi genocide against Jews.
Obama later expressed regret at what he called his inadvertent use of the erroneous term.
But apologies and media corrections are not enough, said Polish lawmaker Dariusz Piontkowski of the Law and Justice party, who believes a harsher punishment is necessary.
These linguistic errors are "contrary to historical truth" and undermine the Polish state, he told parliament on Friday, according to AFP.
From 1939 to 1945, Nazi Germany killed nearly six million Polish citizens, including three million with Jewish roots. Many died at the various concentration camps installed by Nazi Germany in occupied Poland.
The most notorious, Auschwitz-Birkenau in the southern city of Oswiecim, has become the face of the Holocaust.
United Nations Secretary-General Ban Ki-moon recently paid homage to Holocaust victims at Auschwitz-Birkenau, thus becoming the first UN leader in history to visit the camp.
Ban pledged during the visit to "build a world of equality and dignity for all."
(Arutz Sheva's North American Desk is keeping you updated until the start of Shabbat in New York. The time posted automatically on all Arutz Sheva articles, however, is Israeli time.)