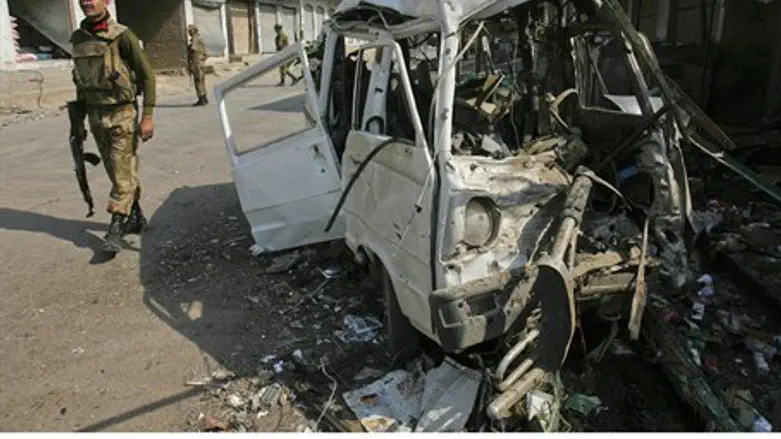 Northwest Pakistan suicide bombing (file)
Reuters
A 15-year-old boy in Pakistan is being hailed as a hero, after he tackled a suicide bomber terrorist to stop him from blowing up his school on Monday. The boy was killed defending his fellow students, 2,000 of whom were at the school, as the bomb detonated.
The boy, Aitzaz Hasan, was with his friends outside his school in the Hangu region of north-western Pakistan, which has suffered from Muslim sectarian violence and high Al Qaeda and Taliban activity. Aitzaz and his friends spotted the terrorist approach wearing a bomb belt.
According to his cousin Mudassar Hassan Bangish, Aitzaz said "I'm going to stop him. He is going to school to kill my friends." Bangish told BBC "he wanted to capture this suicide bomber. He wanted to stop [him]. Meanwhile the suicide bomber blasted himself which resulted in the death of my cousin."
The teenager has been the object of much praise over his self-sacrifice, giving up his life despite his friends' attempts to stop him.
Aitzaz's father Mujahid Ali praised his son's heroism, saying "my son made his mother cry, but saved hundreds of mothers from crying for their children."
Some have called for Aitzaz to be given the army's highest honor given award to those who sacrifice their lives for the country; "we the citizens believe that State of Pakistan must award Nishan-i-Haider to Pakistan's brave son shahid (martyr) Aitzaz," wrote journalist Nasim Zehra on her Twitter account Thursday.
Former Pakistani ambassador to the US Sherry Rehman also was part of the social media outpouring calling for recognition of the youth's bravery. Rehman tweeted "Hangu's shahid (martyr) Aitzaz Hasan is Pakistan's pride. Give him a medal at least. Another young one with heartstopping courage."
Bangish described his cousin as "brave," noting "he always used to say 'I am always ready for my country.'" Bangish also called his cousin "a shahid of his whole nation."
Aitzaz is not the first Pakistani youth to pay a cost for opposing terrorism. Malala Yousufzai, a 15-year-old activist who spoke out against the Taliban's ban on schooling for girls, was shot in the head by the terrorist organization, although she survived her wounds.