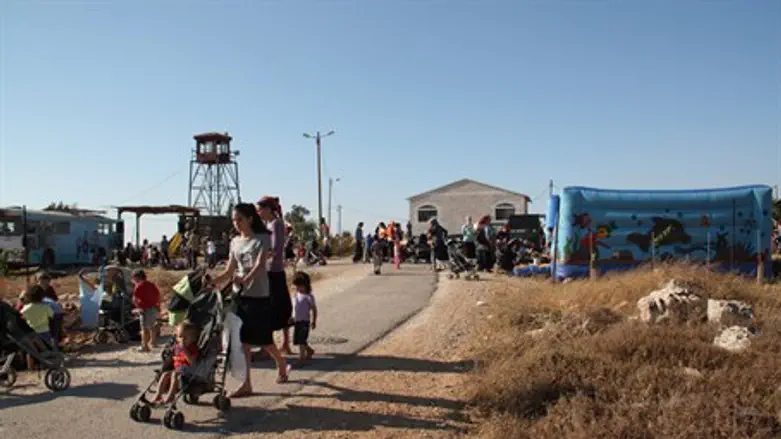 Esh Kodesh
Hillel Maeir
The leftist organization Peace Now demanded on Wednesday that the Binyamin region village of Esh Kodesh be destroyed in response to Tuesday's violent incident in the Arab village of Kusra.
The demand was made in a Facebook post by the heads of the organization which was directed at Defense Minister Moshe Yaalon, Central Command head Nitzan Alon and Civil Administration head David Menachem.
"We demand that all the buildings in the outpost be demolished, as they were built without permits and in light of the ongoing criminal activity coming from Esh Kodesh," said the Peace Now post.
"The outpost is the focal point of serious criminal activity and as such, in addition to being illegal, it also causes harm to humans and property, and thus a becomes a heavy burden on the security system," said the organization.
Tuesday's incident took place when dozens of Jewish men were abducted and beaten in a mob attack in Kusra. The men, who were unarmed, were set upon by an Arab mob, chased down, tied up and beaten senseless.
The IDF subsequently arrived and convinced local Arab leaders to order the Jewish men released, but then proceeded to arrest the victims.
The unrest was fanned after border police destroyed Jewish vineyards using the "Disruptive Use Order," allowing the seizure of Jewish land even when no Arab claims the land. Jewish residents reported being ambushed by the Arab mob later in the day while they were walking between Esh Kodesh and Givat Hayovel in protest of the destruction.
Peace Now's demand that the Jewish residents be punished by having their homes demolished should come as no surprise, since the head of the organization, Yariv Oppenheimer, has already expressed his esteem for the Arab mob, saying it deserves praise for not killing the Jews.
"Good job to the residents of the village of Kusra, who kept alive the 'price tag' activists who came to bring judgment on them," Oppenheimer wrote in a post to Facebook, repeating as fact the attackers' claims that the Jewish men had planned to vandalize Arab property in a "price tag" revenge attack for the destruction of Jewish vineyards.
"If the situation were reversed, and Palestinians had entered a settlement to hurt Jews, it would have ended in a lynch and in deaths," he claimed. "Under the claim of 'self defense.'"