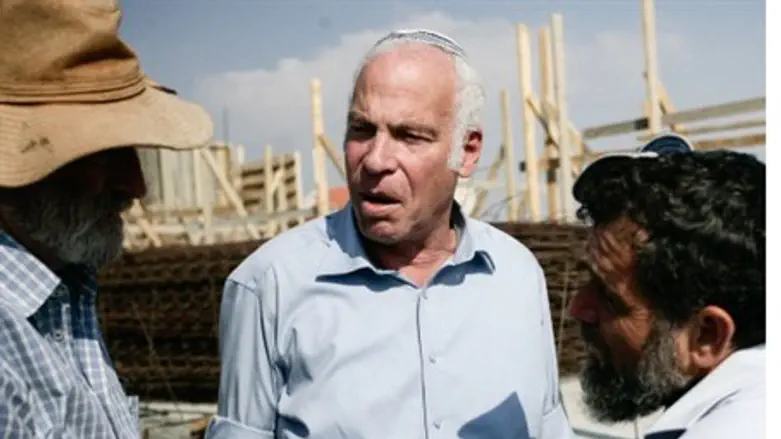 Minister Uri Ariel
Israel news photo: flash 90
Housing Minister Uri Ariel declared to Arutz Sheva that Israel will not evict Jews from their Judea and Samaria homes - no matter who, or what, pressures him to do so. 
In an exclusive interview, Ariel reiterated the stance of his party (Jewish Home), which announced recently that a withdrawal from Judea and Samaria constitutes a "red line" for their involvement in the current government. 
Ariel explained that Jewish Home's escalated calls to keep Israel intact are a sharp response to Kerry's push for an agreement between Israel and the Palestinian Authority which would see the Jewish state ceding yet more territory.
"To make sure there are no misunderstandings or mistakes about what the 'red lines' are in negotiations from our perspective, our stance is supported by many good people from the Likud and other parties," Ariel stated. "It is good to provide strength to the Prime Minister during the negotiating process." 
Prime Minister Binyamin Netanyahu recently affirmed that Israel would not give away any part of Judea and Samaria. The Housing Minister confirmed that this refers to keeping every Jewish town - not just large blocs. 
"We will not uproot Jewish towns, exclamation point," Ariel enthused, "if that is not enough, we'll put three exclamation points. The Prime Minister has been clear on this point, I have no reason to doubt his words. I think the matter is quite clear." 
"I speak for all of Jewish Home: no Jewish town will be uprooted - no matter how small," Ariel emphasized. "We've been through this before: this [a withdrawal] will disgrace the Jewish people and Judaism." 
Ariel's statements come on the heels of a moving speech Jewish Home leader Naftali Bennett delivered Tuesday at the Institute for National Security Studies, defending Israel's right to retain sovereignty in its own land. 
"These are the decisions that take real leadership," Bennett stated. "That we will never agree to give up Jerusalem, a united city under Israeli sovereignty, and only Israeli. We will not accept a terrorist Palestinian state, we will not accept an agreement based on the 67 lines".
"We will not exchange territory as if we were doing cut-and-paste on some Word document on the computer. We will not agree to a border along Highway 6, meaning rockets on Highway 4," he continued. 
 "We didn't come here in order to be the world's experiment… We will make decisions about ourselves by ourselves, for the simple reason that only we will pay the price… Are those who pressure us today going to be killed in our place tomorrow?" he asked.