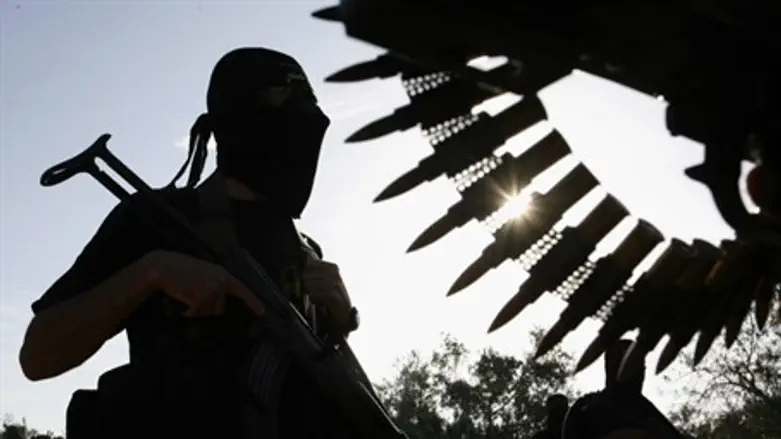 Al-Quds Brigades terrorists in Gaza
Flash 90
An Islamic Jihad Al-Quds Brigades terrorist was killed in Gaza on Wednesday, in what his family claims was an Israeli drone strike. However, an IDF spokeswoman denied involvement, saying "we did not strike in Gaza today and we are unaware of any incident involving tanks or other shooting."
The terrorist was killed in the Sejaiya district near the security fence with Israel. Hamas Health Ministry spokesman Ashraf al-Qudra told AFP that the terrorist was a 32-year-old named Mohammed al-Ijlah.
Clashes between terrorists and the IDF have picked up recently, as just last Thursday a terrorist who was part of a group trying to destroy the security fence was shot in the leg and later died of his wounds.
In the massive snowstorm in December, soldiers reported that the fence took major damage, creating a security risk.
On December 24, an IDF civilian worker who was repairing the fence was fatally shot by a Gazan sniper, igniting an IAF response.
Two weeks ago, Gaza terrorists fired two rockets at Israel. The IAF again responded.
Last Tuesday, Gaza terrorists test fired new long-range M-175 rockets capable of hitting beyond Tel Aviv, signifying expected escalations.