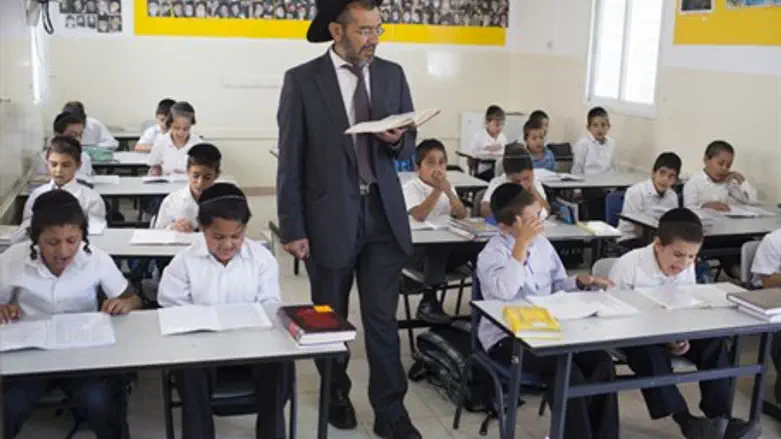 Hareidi boys in school
Israel news photo: Flash 90
Tens of thousands of hareidi children will be taught English, math and science next year in schools that previously ignored secular subjects in favor of Torah study, Finance Minister Yair Lapid reported Tuesday in a post to Facebook.
Lapid focused on an agreement between the Finance Ministry and the Shas school network Maayan Hachinuch Hatorani.
"In the past few days we signed a historic deal that will require 'Maayan Hachinuch Hatorani,' the Shas school system, to teach the core curriculum. This is no less than a revolution," Lapid declared.
"Tens of thousands of hareidi children will learn math, English and science for the first time," he wrote. "Studies will be under full government supervision, according to all the criteria set by the school system."
Children in Shas schools "will also need to pass the international tests," he stated.
"In Israel 2013, education is the key to a better and richer life," he continued. "Teaching core subjects will give these children a fair and equal chance to realize their potential, and to make an honorable living when they grow up."
Next to hareidi-religious enlistment in the IDF and programs encouraging hareidi men engaged in full-time Torah study to join the workforce, "this is the most important step to integrate the young generation of hareidi Jews into Israeli society, and to break the cycle of poverty," he concluded.
The government's efforts to require hareidi men to enlist in the IDF have been met with considerable resistance from within the hareidi community. Lapid's agreement with Shas has been controversial as well; some members of the Shas movement say the deal gives the government too much control over what happens in its schools.