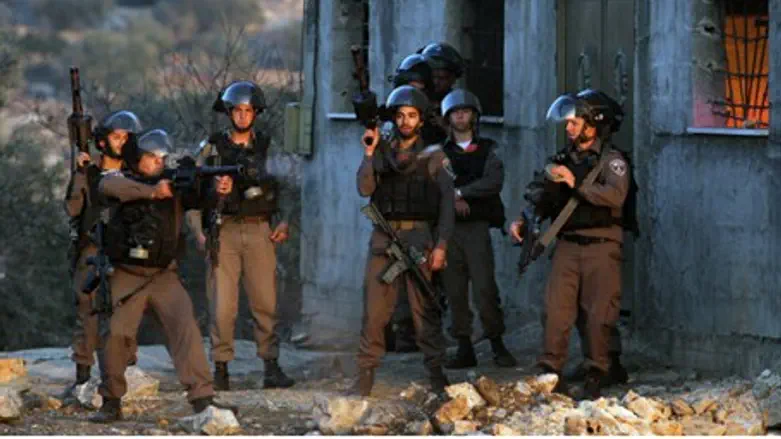 IDF forces (illustrative)
Flash 90
Dozens of Jewish men were abducted and beaten in a mob attack in the Binyamin region on Tuesday afternoon. The men, who were unarmed, were set upon by an Arab mob, chased down, tied up and beaten senseless.
One of the men told Arutz Sheva about the vicious attack. The men were attacked as they were walking from the Jewish village of Esh Kodesh to the nearby Givat Hayovel.
Suddenly, they were set upon by an Arab mob, he said. "They blocked us in with trucks. The Arabs started hurling rocks at the Jewish group."
The Jews were forced to hide nearby, he continued. "We called the army, because we felt our lives were in danger. The Arabs gathered us into one place, tied our hands and legs, and beat us cruelly," he said.
The beatings were so severe that he passed out, he said.
The army arrived, and convinced local Arab leaders to order the Jewish men released. The victim who spoke to Arutz Sheva said that IDF officers seemed to blame the victims.
He recalled that one officer told him, "You came to do a 'price tag' and now you're going to get it." Jews living in Judea and Samaria have widely been blamed for "price tag" attacks - nationalistically-motivated vandalism targeting Arab-owned property - despite evidence that most perpetrators of such vandalism are not from the region.
A security source disputed the man's version of events. He reported that both Jews and Arabs had been throwing stones, and that the conflict moved into the Palestinian Arab town of Kusra.
The AFP news agency confirmed that at least 13 Jewish men were held against their will in a house in Kusra and were beaten. The agency quoted Palestinian Arab sources as saying the Jewish men were "Israeli settlers who had sparked clashes" by entering Kusra.
Residents of Esh Kodesh have reported previous attacks originating in Kusra, including a mob attack in 2012 in which hundreds of Palestinian Arab men surrounded the Jewish village screaming, "Kill the Jews."