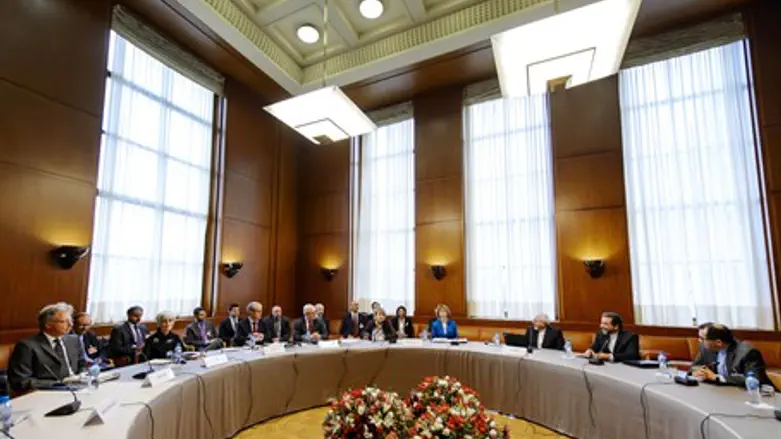 Nuclear talks in Geneva
Reuters
Iranian lawmaker, cleric, and Majilis (council) member Mohammed Nabavian declared Monday that Iran does need a nuclear bomb - to destroy Israel. 
Iran would be able to build a nuclear bomb in "two weeks" if it gets "access to 270 kilograms of 20 percent [enriched uranium], 10 tons of 5 percent, and 20 thousand centrifuges," Nabavian stated, according to Iranian media reports. "We are not looking for a nuclear bomb, but having a nuclear bomb is necessary to put down Israel." 
Regarding Iran's resumed diplomatic relations with the US, Nabavian stated, "If Obama asked for a meeting five times before the visit to New York and several times during the visit, it's because over these eight years measures were taken [by Iran] and, as a result, the United States [now] needs Iran."
"In Syria, the U.S. did not manage to attack and was humiliated. In practice, Obama was humiliated because he did not stand up to Iran, and hence it is necessary to meet with Iran's president to show that he is a strong man and tell the world: I brought Iran to the negotiating table after 30 years."
According to MEMRI, Nabavian made the remarks in a speech that he delivered at a political activists' conference in Mashhad (northeastern Iran).
Nabavian also claimed that Iran agreed to a deal only to escape the sanctions imposed on its booming oil trade.
"Forty-nine percent of our budget depends on oil [revenue]. This is a very high figure. This means that half our budget comes from oil money. In [March 2012-March 2013,] we had to sell 2,700,000 barrels of oil daily to supply the budget. Now take into account banking sanctions [even] more severe than the oil sanctions," he mused.  
"Since June 2012 all the world's banks have been barred to us and we don't have permission to exchange even a dollar. Think of it, even if we sold 2,700,000 barrels of oil [a day], how could we have conducted the financial transactions?"
Once an agreement was reached, business eased, according to Nabavian. "Finally, Putin sent the governor of his central bank directly [to Tehran] to secure alleviations in the field of money transfers and barter trade. Likewise, China transferred to our account 10 billion toman from the blocked funds."
The deal is set to take affect on January 20, according to recent reports. The interim deal requires that Iran freeze or curb its nuclear activities for six months in exchange for some sanctions relief. In the meantime, Iran and Western powers will try to reach a comprehensive agreement.
Nabavian's remarks, oddly, echo statements made by Intelligence Minister Yuval Steinitz in December, who dismissed reports that the sanctions had little effect on Iran and lamented the deal for allowing nuclear building to escalate. 
"According to calculations the government made a few months ago, during a special Knesset meeting, the sanctions imposed on Iran cost it over 100 billion dollars," Steinitz stated. "This is a vast sum, considering that Iran's GNP is 450 billion dollars per year." 
Steinitz stated that the sanctions had been one of the State of Israel's greatest successes. "If we would have continued sanctions [on Iran], we would have seen the Iranian economy collapse in a year or two," he said.