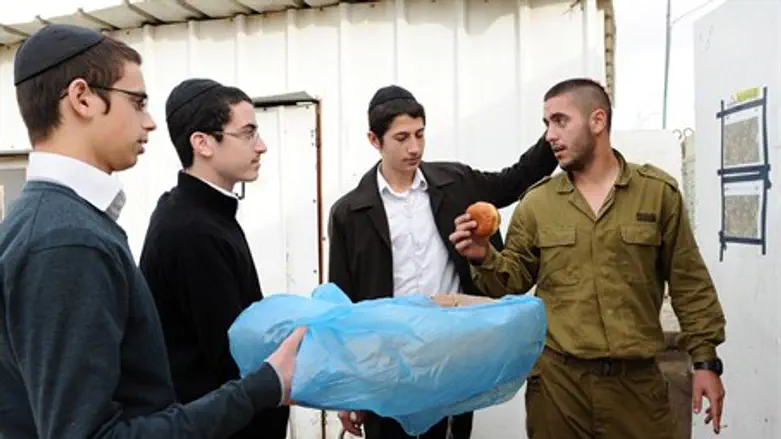 Chabad volunteers hand treats to Israeli sold
Flash 90
Chabad "shluchim," who serve in Chabad houses or otherwise service the organization, will be enrolled in the state's National Service program, a Knesset committee decided Monday. As a result, thousands of young volunteers for the hassidic outreach sect will be able to discharge their obligation to serve the State by working for the organization.
That service will include missions that young Chabad members are sent on abroad, serving in "Chabad Houses" all over the world.
The new rule will be rolled into the state law on service, which the Knesset committee on "sharing the burden" - the Shaked Committee – is currently finalizing. The committee, made up of MKs from both the coalition and opposition, is expected to present its findings within the next few months. The findings will be the basis of the law on IDF service requirements that the Knesset will approve later this year.
The rule was recommended by MK Elazar Stern of the Hatnu'a party. Stern said that the self-sacrifice of these Chabad youth, who work to strengthen Jewish identity around the world, was admirable, and should be recognized by the state.
Stern proposed the idea last week, but it was opposed by Yesh Atid MKs. As a result, it went up for a vote Monday at the committee, where it was approved. MKs from Shas, UTJ, and the Likud supported it.
With the new rule, Chabad service joins that of Magen David Adom, Zaka, the Israel Police, and other volunteer or security groups as having the status of national service, by which young people can fulfill their obligations to the state.