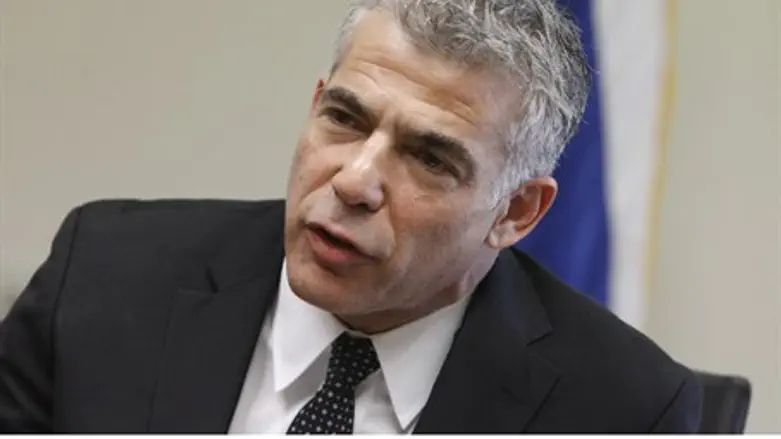 Finance Minister Yair Lapid
Flash 90
Israel can and should move forward with a final-status agreement with the Palestinian Authority, Finance Minister Yair Lapid said at a meeting of his Yesh Atid party Monday. A deal with the PA will bring Israel economic advancement, and improve the country's security be insisted.
Like other heads of Israeli parties, Lapid over the past several weeks has solidified his stance on what is expected to be at least a temporary agreement or framework for peace between Israel and the PA, to be presented by U.S. Secretary of State John Kerry. The deal is expected to lay out the final goals and eventual shape of a final-status deal, with Israel committing to give up land in Judea and Samaria, and the PA expected by Kerry to recognize Israel as a Jewish state and to back off on some of its demands.
Lapid is an enthusiastic supporter of Kerry's program. On Monday, he told Yesh Atid MKs that a deal with the PA "will turn Israel into a stronger country, diplomatically and financially, and ensure the survival of Israel as a Jewish state. I call on the Prime Minister not to miss this opportunity to achieve a long-term and beneficial arrangement with the Palestinians.
"We are not seeking a happy marriage with the Palestinians, but a fair divorce," he added.