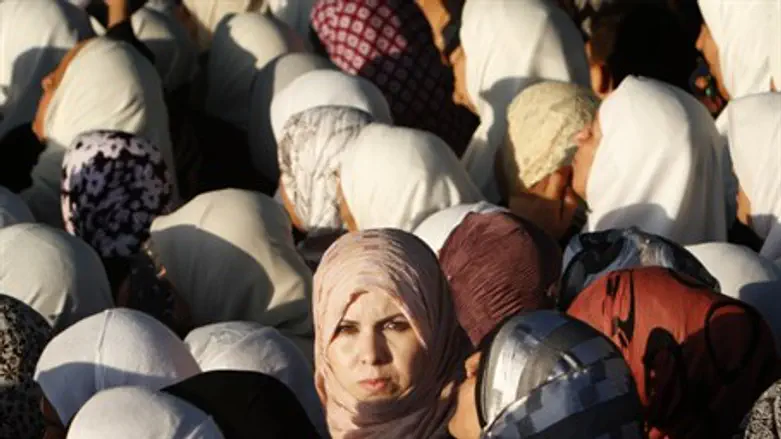 Illustration: Muslim women
Flash 90
Bayan Zaharan, the daughter of a Saudi businessman, has become Saudi Arabia's first female lawyer thanks to a royal decree, which has begun opening up the profession to women.
"I've received many responses," Zaharan told Al Arabiya. "Hundreds of responses arrived in my Twitter account. Also judges and court workers responded."
Zaharan noted her thanks to King Abdullah for granting her the right to work as a lawyer. Royal decrees are expected to allow 3 other Saudi women to become lawyers in the coming weeks.
Under King Abdullah women have received permission to stay at hotels alone, girls have been allowed to ride bicycles, and 30 women parliament members were appointed for the first time ever a year ago. 
However Zaharan, who has already opened a law office of her own employing four other (male) lawyers, wears a full traditional face covering (niqab), throwing doubt on the revolutionary nature of her employment.
The first female lawyer in the Arab world was appointed in Egypt 75 years ago.
The fact is slightly ironic, as a study in November found Egypt to have the worst women's rights in the Arab world, with Saudi Arabia coming in third worst after Iraq.
Saudi Arabia, with its religious police enforcing Sharia law, has a far from stellar record on women's rights. Indeed, women are forbidden from driving.
In March 2002, religious police stopped schoolgirls from escaping a burning school in Mecca because they were not wearing headscarves and black robes, nor were they accompanied by a man. As a result, 15 girls died and 50 were injured.
In January 2013, a public outcry followed the arrest of women protesters, in what some predicted might be a new phenomenon of women's rights causing a second Arab Spring.