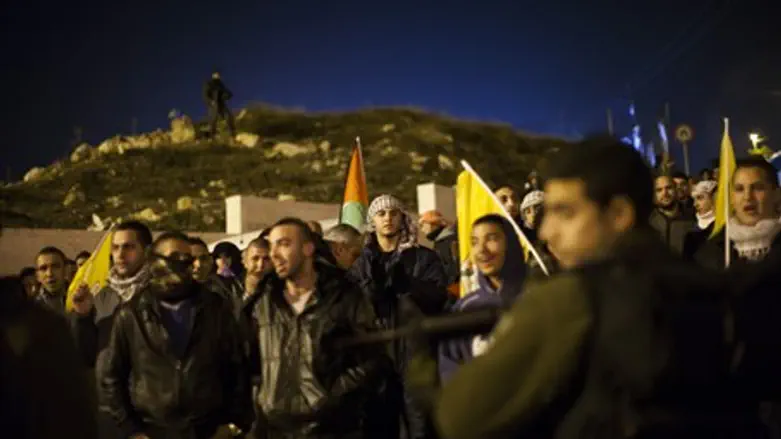 PA celebrates terrorist release
Flash 90
"It is a day of joy to our people," Palestinian Authority (PA) chairman Mahmoud Abbas declared on Monday night.
The comments came as Abbas personally greeted 18 terrorists released by Israel to the PA-assigned areas of Judea and Samaria as part of a "gesture" to the PA.
Abbas and other senior PA officials shook the hand of each of the 18 terrorists, who arrived in Ramallah to be greeted by dozens who celebrated their release.
"Today is a day of joy to our people, our families and our hero prisoners who have achieved freedom," said Abbas, adding, "We promise that this is not the last time that prisoners will be released."
The PA head, who is currently engaged in peace talks with Israel, also declared that "there will be no final agreement with Israel until all prisoners are released."
Abbas also referred to Sunday's approval by a ministerial committee of a bill that would annex the Jordan Valley and place it under full Israeli sovereignty.
"[The Jordan Valley] is our land and will remain so. This is a red line for us," he declared.
The 18 terrorists who arrived in Ramallah are part of a group of 26 terrorists released by Israel on Monday night.
Three of the 26 were transferred to Gaza. The remaining five were taken to eastern Jerusalem, where they reside, though they are not Israeli Arab citizens.
The release was made possible after the Supreme Court rejected a last minute petition filed by activists and families whose loved ones were killed in the terror attacks perpetrated by the prisoners set to be released.
As in previous appeals before terrorist releases, the Court said that "there is no cause for us to intervene in such processes, as they are political decisions." The appeal also asked the Court to consider the fact that five of the terrorists were to be released to their homes in Jerusalem, but said that this was not sufficient grounds to prevent the releases.
As the terrorists were being released, U.S. Secretary of State John Kerry expressed his "appreciation" of Israel's agreeing to release terrorists who murdered Israelis.
"The Israeli government's commitment to release Palestinian prisoners helped enable the start... and the continuation of the final status negotiations, and we believe this is a positive step forward in the overall process," said State Department  deputy spokeswoman Marie Harf.
The release came amid accusations by an Israeli official that Kerry had "deceived" Israel with regards to the release of terrorists.
The unnamed official, who spoke to Channel 2 News Monday evening, said that Prime Minister Binyamin Netanyahu has made it clear to Kerry that the next batch of 26 terrorists that Israel is to release will not include any Israeli Arabs, contrary to the PA's demand.
The official said that during the initial talks between Netanyahu and Kerry, before the peace talks restarted, Netanyahu agreed to release 82 terrorists in several batches, none of them Israeli Arabs.
Subsequently, the same official told Channel 2, Kerry and PA Chairman Mahmoud Abbas held talks of their own during which Abbas demanded the release of 104 terrorists, including Israeli Arabs. Kerry's deception was that, instead of telling Abbas that Israel only agreed to release 82 terrorists, he then went back to Netanyahu and tried to convince him to change his position.