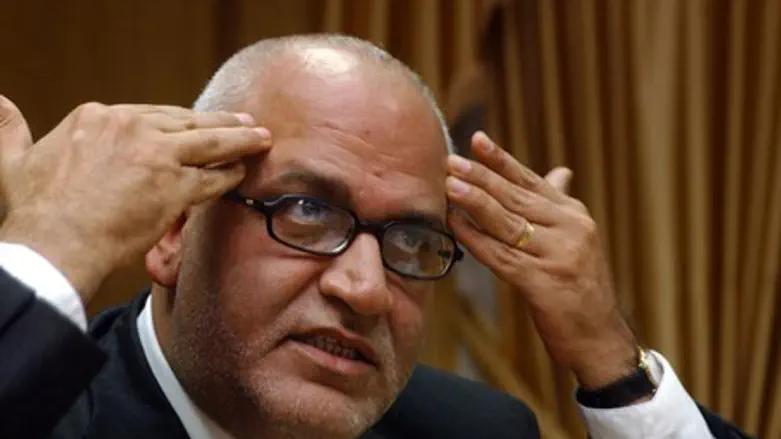 Saeb Erekat
Flash 90
The Palestinian Authority's (PA) chief negotiator for peace talks with Israel declared on Monday that the talks have failed, reports NRG/Maariv.
Saeb Erekat said, according to the report, that there was no point in continuing the talks for the full nine-month period that was agreed upon and that the PA should start pursuing statehood through United Nations institutions.
The comments came a day after Erekat slammed a ministerial committee's vote in favor of a bill that would annex the Jordan Valley and place it under full Israeli sovereignty.
On Monday, the head PA negotiator went even further, accusing Israel of having killed 33 Palestinian Arabs and issuing tenders for 5,989 new housing units in Judea and Samaria since the peace talks restarted.
Erekat also claimed that Israel has destroyed 214 homes belonging to Palestinian Arabs over the past four months.
"The Palestinian leadership should contact international organizations and institutions that would recognize a Palestinian state within the 1967 borders with its capital in Jerusalem," he said, according to NRG/Maariv.
Erekat added that "the Israeli decision to annex the Jordan Valley means the destruction of the peace process efforts in general and specifically the efforts of U.S. Secretary of State John Kerry, and is proof that Israel ignores international law and the efforts of the Quartet."
He further charged, "The Israeli attempt to annex the occupied Jordan Valley after the international decision regarding the Golan Heights is a sign that the Netanyahu government is trying to hurt international law and requires the international community to discuss the issue of Israel's borders immediately."
The Jordan Valley, situated in eastern Samaria (Shomron), has been the topic of contention in recent months. Kerry is reportedly attempting to force a deal on Israel and the PA which would see an Israeli "withdrawal" from all of Judea and Samaria, but allow for a temporary arrangement whereby IDF and/or foreign forces would maintain a presence in the Jordan Valley.
The Israeli government argues the Valley is strategically important, and Prime Minister Binyamin Netanyahu has insisted in the past that, in the event of a withdrawal from Judea and Samaria, Israel would still keep troops in the area.
Since the UN decision in November 2012 which recognized the PA as a "non-member observer state" in the international body, the PA has threatened several times that if peace talks fail, it would turn to international institutions and seek to sue Israel in the International Criminal Court.