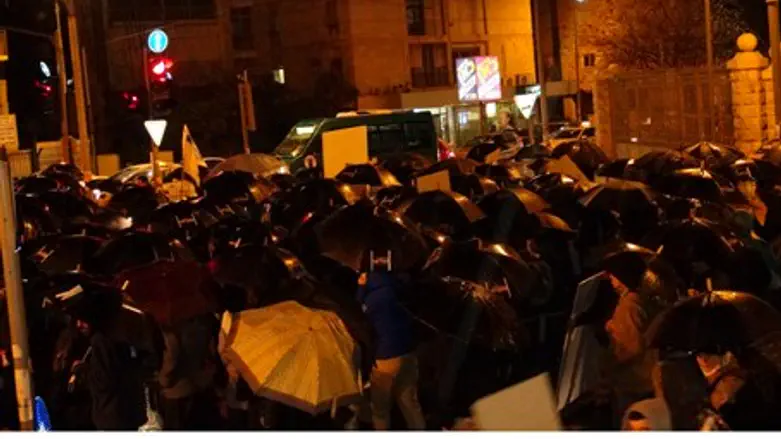 Protesters against the terrorist release marc
Hezki Ezra
If all goes to plan, the government will release 26 terrorists late Monday, in the third round of terrorists releases Israel promised to undertake last summer, as the price for the return of the PA to the negotiating table. The High Court rejected a last minute petition against the release of the terrorists filed by activists and families whose loved ones were killed in the terror attacks perpetrated by the prisoners set to be released.
As in previous appeals before terrorist releases, the Court said that "there is no cause for us to intervene in such processes, as they are political decisions." The appeal also asked the Court to consider the fact that five of the terrorists were to be released to their homes in Jerusalem, but said that this was not sufficient grounds to prevent the releases.
Among the terrorists is a rogues gallery of murderers. On the list of those going free is Kamil Ahmed Awad, convicted of killing 16 people, including 20 year old IDF soldier Yoram Cohen. He was arrested in 1993, two weeks after the signing of the Oslo Accords. He is joined by Shahada Farid, convicted of murdering Israeli Yosef Farhan. He was to be released in 2030. Also going free are Yakub Muhammad Ramadan and Afana Mustafa Muhammad, convicted of murdering Sarah Sharon. Many others on the list participated in the murder of Jews and Israelis.
Hundreds of people protested outside the Prime Minister's Office Monday night, protesting against the planned release. They marched towards the Old City, with some of the protesters proceeding to the home of Ahmed Khalaf, one of five Jerusalem Arabs to be released in the deal. The protest outside Khalaf's home was authorized by the High Court, despite opposition by police.
The releases are set to take place at several points, the Prisons Service said. Shortly after midnight, terrorists will be sent to Palestinian Authority controlled areas outside Erez Prison and at the Gaza border. The five Jerusalem Arabs will be released at a secret location near the Old City. Large contingents of police and IDF soldiers are on hand at all the release points to ensure that family members or Israeli protesters do not interfere with the release of the terrorists.