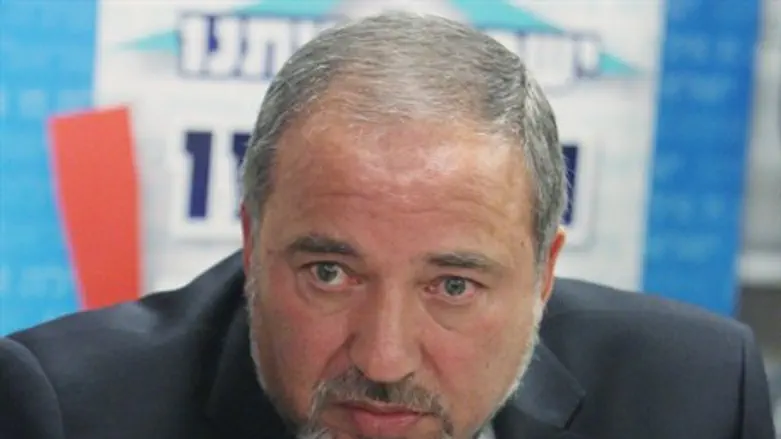 MK Lieberman
Israel news photo: Flash 90
Foreign Minister Avigdor Liberman (Likud-Beytenu) wrote Sunday on his Facebook page that the "neo-Nazi" salute by soccer player Nicolas Anelka is "the essence of the entire problem that exists in Europe today, toward the Jews and toward Israel."
"Anelka is a Muslim since 2004," the seasoned politician explained. "The atmosphere created by the radical Muslims in Europe, whose number keeps on growing, combines with anti-Semitic sentiments and de-legitimization of the state of Israel.
"Even if the majority in Europe and the political leadership in Europe is not anti-Semitic and is not anti-Israeli, the growing percentage of Muslim voters makes it necessary for them to radicalize their positions as far as the situation between Israel and the Palestinians," Liberman added.
"Therefore," he summed up, "while it is indeed important that Anelka's extreme and shocking act was denounced, it is more important in Europe, people who radicalize their positions toward Israel without taking into account the reality that is much more complicated." 
Politicians and Jewish leaders expressed outrage Saturday after Anelka made the gesture following a goal he scored in a game between his West Bromwich Albion team and West Ham United. The 34-year-old striker thrust his straightened right arm downwards while tapping his bicep with the other hand, in a gesture frequently used by Dieudonné, a French comedian friend of Anelka's who has been convicted and fined numerous times for anti-Semitic public comments.
MK Shimon Ohayon (Likud-Beytenu), who heads the Knesset Caucus for Battling Anti-Semitism, wants Anelka punished. "I call on the Premier League management to place Anelka on trial and sentence him severely," said Ohayon, who added that the "reverse Nazi salute" is, without a doubt, an anti-Semitic gesture. "This gesture has no place in the world in general, and on soccer fields in particular," he added.