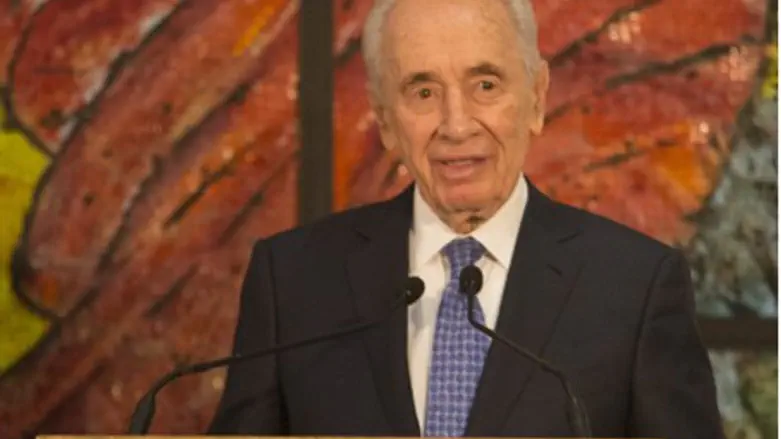 President Shimon Peres
Flash 90
There is no way to separate Judaism from the state of Israel, President Shimon Peres said Sunday. On a visit to the Machon Lev Jerusalem Technology College, Peres said that despite the efforts of secularists, Israel would always remain a Jewish state.
Peres addressed a question from a student who said that "in recent months we have seen an unparalleled attempt to defame the hareidi religious public, especially when it comes to serving in the IDF." Did Peres believe that it was necessary to force hareidi religious yeshiva students into the army in order to get them into the workforce?
In response to the question, Peres said that throughout Jewish history, there were yeshivas and students studying in them. "It is out of the question that Israel would be the only place without yeshivas," Peres said. "We have no choice but to bring hareidi and secular groups together to discuss how we will manage affairs in this country. It is illogical and impossible to say that we will have a secular state."
The Biblical Moses, said Peres, "was the first philosopher of democracy in the world. He established that all people were born in G-d's image and were equal, he called for people to love each other. I do not see how you could separate Judaism from the state. There is a wide range of opinions and ideas on Judaism, but there is a basic core philosophy, which is found in the Ten Commandments."
Speaking in response to a question from the student audience, Peres said that he planned to dedicate his final months in office to ensuring that Jonathan Pollard was released from prison.
Peres said that while Israel would do what it could to get Pollard out of prison, "we must remember that it is the decision of the President. However, we have a good relationship with him, and we speak to him about it, and try to convince him.
"I do not believe that this issue will be decided with public declarations and announcements," Peres added. "The best way to accomplish this is through quiet discussion and diplomacy, and this is what we are doing."