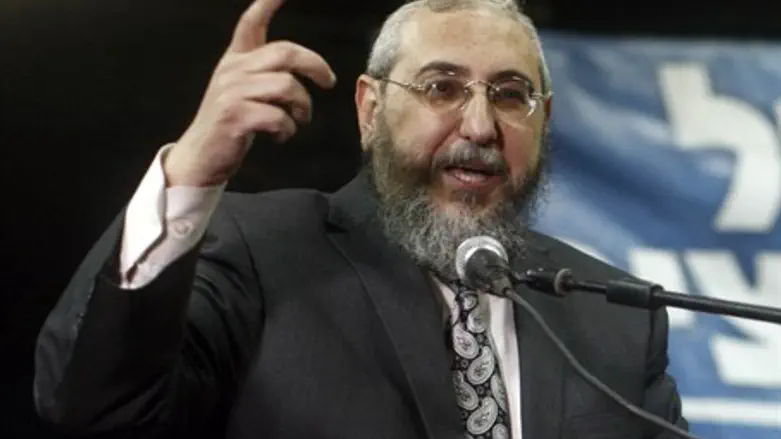 Rabbi Haim Amsalem
Flash 90
Rabbi Haim Amsalem, chairman of the Am Shalem movement, has been holding what are termed "intense discussions" with the Likud, reports say.
The discussions, according to the reports, could lead to an alliance between the Likud and Amsalem's movement, or the Rabbi's joining the Likud and being given a reserved spot on the next Knesset election list.
Amsalem is a former Shas MK who left the party in 2010 after being sharply criticized by fellow Shas MKs. Amsalem was considered too liberal for many of the hareidi-religious Shas MKs, advocating a softer halachic line on conversions and Jewish identity. He has fiercely attacked Shas for what he says amounts to a betrayal of Sephardic tradition, claiming it has embraced the ethos of preferring full-time Torah study to employment championed by modern-day Ashkenazic hareidi parties - an ethos he dismisses as totally foreign to Sephardic, and wider Jewish tradition.
During the last election, Amsalem established the Am Shalem party – a term meaning "complete nation," and a take-off on his Hebrew name – but failed to win enough votes to qualify for a Knesset seat.
Speaking to Arutz Sheva, Amsalem said that Am Shalem was currently an independent group, even though members have recently worked with the Likud to sign up new members for the latter party. "I did not authorize these activists to work with the Likud, but I am aware of their doing so. The Likud is a fine party, as far as I am concerned," he said, but would not comment on whether or not he would eventually join the party.
According to party activists, the Likud is not the only party interested in Amsalem, and he has received "interesting offers" from other parties as well.
According to the activists, Amsalem's centrist position appeals to many Shas voters, who hesitated to vote for him in the past because they felt committed to vote for Shas, heeding the words of Rabbi Ovadia Yosef. Now that Rabbi Yosef has passed away, the activists claim, many of Shas' modern Orthodox and Religious Zionist voters will feel more free to vote for Amsalem, with whom they have more in common.