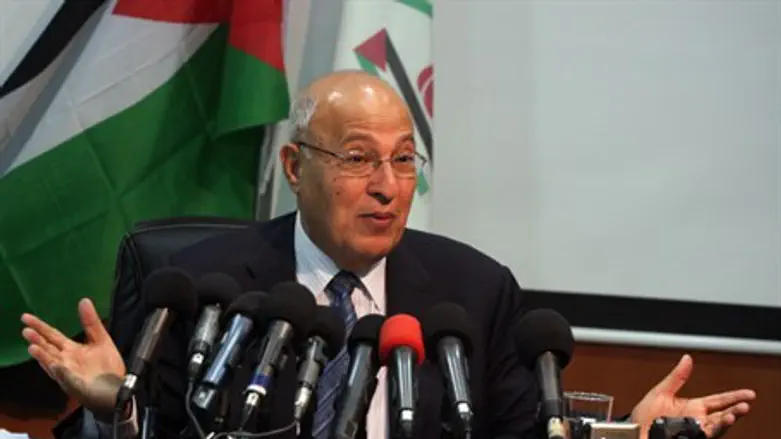 Nabil Shaath
Flash 90
An official with the Palestinian Authority (PA) predicted on Saturday that the PA will have to renew the "resistance efforts" in 2014.
However, Nabil Shaath told the Ma'an news agency, the PA would need to use what he termed "smart resistance", namely join more UN organizations and dedicate efforts to achieve reconciliation with Hamas.
Shaath said that the peace talks currently under way between Israel and the PA will not result in a peace deal "because of what Israel and the United States are proposing."
"We have to use smart and fruitful means of struggle rather than violent struggle in order to maintain international support, as negotiations have failed to make a single step forward," he told Ma'an.
"The minimum of what we were offered in the year 2000 hasn't been reached, not to mention that the U.S. has failed to exert pressure on Israel to guarantee Palestinian rights," added Shaath, referring to a groundbreaking offer made by former Prime Minister Ehud Barak to then PA chairman Yasser Arafat. Arafat refused Barak's over and then launched the terror war known as the Second Intifada.
It seems "impossible" to reach an agreement, he claimed, blaming Israeli demands of maintaining security control of the Jordan Valley, refusing "Palestinian sovereignty" in Jerusalem and requesting that the PA recognizes Israel as a Jewish state.
"We will not recognize Israel as Jewish state, and would like to ask John Kerry if he agrees that we recognize the United States as a Christian state," Shaath told Ma'an.
"However, we should choose a smart resistance which will not cause us calamities like what happens when a missile is launched from Gaza. We have to make sure the world will show solidarity with us just as in Europe where settlement products will be boycotted by the beginning of 2014," he said.
Peace talks between Israel and the PA restarted in July, but so far little progress has been made in talks and there is a wide rift between the positions of the two sides.
The PA has threatened several times that if peace talks fail, it'll turn to international institutions in its capacity as a non-member observer state in the UN and seek to sue Israel in the International Criminal Court.
Foreign Minister Avigdor Liberman has described the PA's efforts to bypass negotiations and achieve statehood through unilateral actions as "diplomatic terror."
PA Chairman Mahmoud Abbas has openly declared that a future Palestinian state will have no Jewish presence, military or civilian. One of the PA peace negotiators with Israel, Mohammed Shtayyeh, has threatened Jewish residents of Judea and Samaria that they would be stripped of their Israeli citizenship and pursued by international governments  because they were "violating" PA territory after the UN allegedly legitimized the body last year.