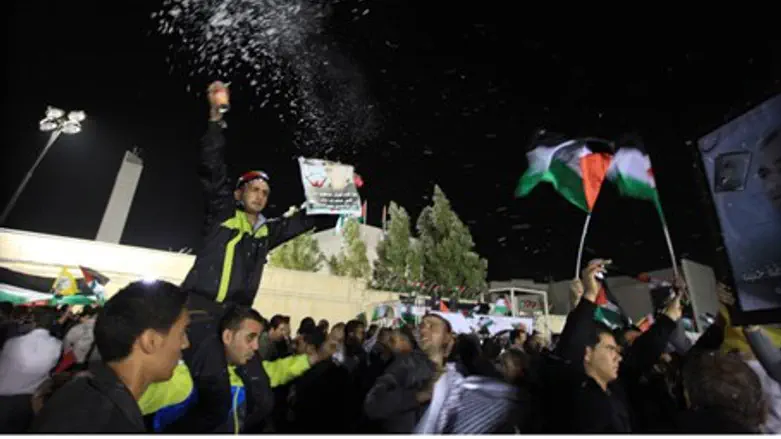 Arabs celebrate terrorist release in Ramal
Flash 90
The Israel Prison Service (IPS) made public on Saturday night the list of 26 terrorists who will be freed as a "gesture" to the Palestinian Authority during the ongoing peace talks.
This batch of 26 terrorists is the third out of four groups of terrorists that Israel agreed to release.
The list was made public shortly after the cabinet approved the list of the terrorists who will be freed. The terrorists are expected to be freed on Monday.
The names are posted 48 hours before the release takes place, so that bereaved families and others who are opposed to the release of terrorists may appeal to the Supreme Court. However, the court typically rejects the appeals.
One of the terrorists on the list, Kamil Awad Ali Ahmad, was convicted of the murders of 16 Israelis. He was arrested in 1993, just two weeks after the signing of the Oslo Accords.
Among the terrorists to be released one can also find Yakoub Muhammad Ouda Ramadan and Afana Mustafa Ahmad Muhammad, who were involved in the stabbing death of 38-year-old Sara Sharon, a mother of seven, in Netanya in January of 1993.
Abu al Rub Mustafa Mahmoud Faisal, a terrorist who murdered Yoram Cohen in Jenin in September of 1991, will be released as well.
Damara Ibrahim Mustafa Bilal, one of the murderers of Steven Frederick Rosenfeld, will be released as well. Rosenfeld was murdered in 1989 as he went hiking near the city of Ariel.
Abu Mohsin Khaled Ibrahim Jamal, who murdered 76-year-old Shlomo Yahya in September of 1991, will be released in this batch. Yahya, a gardener in Moshav Kadima, was stabbed to death as he came out to work in his garden.
The latest release comes despite protests by the families of victims of terrorists and their supporters, who have held rallies outside of the Prime Minister's residence as part of a campaign to halt the release in light of continued terrorist attacks by Arab groups.
Many prominent political figures had called on Prime Minister Binyamin Netanyahu to halt the "goodwill gesture" in light of a wave of terrorist attacks in the past week, apparently to no avail.