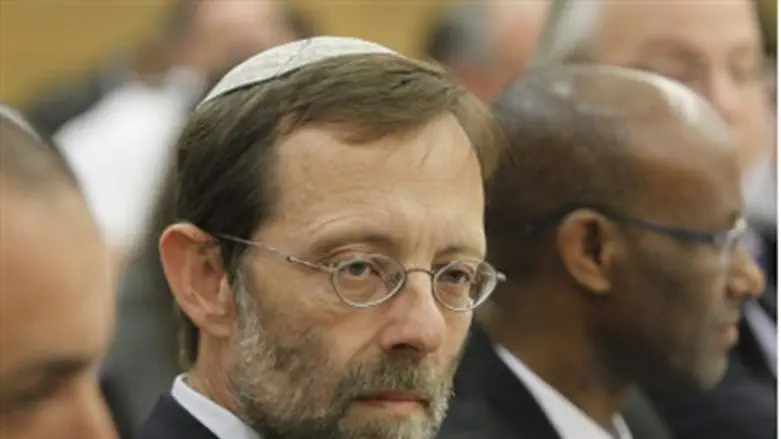 MK Moshe Feiglin
Israel news photo: Flash 90
Deputy Knesset Chairman Moshe Feiglin (Likud) was the only nationalist MK to vote against a bill giving same-sex couples a tax break this week. The bill was voted for by Likud-Beytenu, and Jewish Home Chairman Naftali Bennett. The remaining 11 Jewish Home MKs left the hall to abstain.
Only the hareidi-religious parties, Feiglin, and MK Eitan Cabel (Labor) opposed the bill, which was proposed by MK Adi Kol (Yesh Atid).
"Again it was proven that only the right is capable of expelling Jews, and only the religious are capable of harming the religion," Feiglin told Arutz Sheva.
"Last week it was the Jerusalem bill, before that it was the Bedouins in the Negev and the release of terrorists, and now recognition of same-sex couples," remarked Feiglin. "For the first time they have recognized an institution that undermines the normative family foundations and Jewish family values."
Feiglin's comment on the Jerusalem bill refers to the absence of the nationalist camp in a vote last Wednesday, on a bill requiring 80 MKs to approve any Jerusalem withdrawals. Feiglin joined 11 hareidi MKs in voting for the bill that was rejected.
At the time, Feiglin said he "looked at the empty seats of Likud, Jewish Home, and Yisrael Beytenu, and when their names were called and 'not present' was called - I thought to myself, truly the 'right' is not present."
Feiglin calls the Jewish Home claims that the same-sex bill will be changed in committee debates "utter nonsense."
"They are trying to minimize the damage, but it won't happen," commented Feiglin. "We are witnesses to the attack on all foundational values of society, on all fronts, including the national identity and the gender and familial identity, and the coalition is giving a hand to it all."
"Unfortunately on all the meaningful fronts, the nationalist camp has not placed goals for itself," the Likud MK concluded.
Coalition allies Jewish Home and Yesh Atid found themselves at odds over the same-sex marriage issue initially, even leading to a coalition crisis.
Eventually a compromise was reached whereby same-sex couples would receive equal tax breaks but not through official recognition in the legislation, sparing Jewish Home from being perceived as officially condoning same-sex marriage.
Bennett's enabling of Yesh Atid's agenda has sparked criticism from within his own party, as Jewish Home MKs on Monday said Bennett and his confidante MK Ayelet Shaked are letting themselves be "pushed around" by Finance Minister Yair Lapid's party.