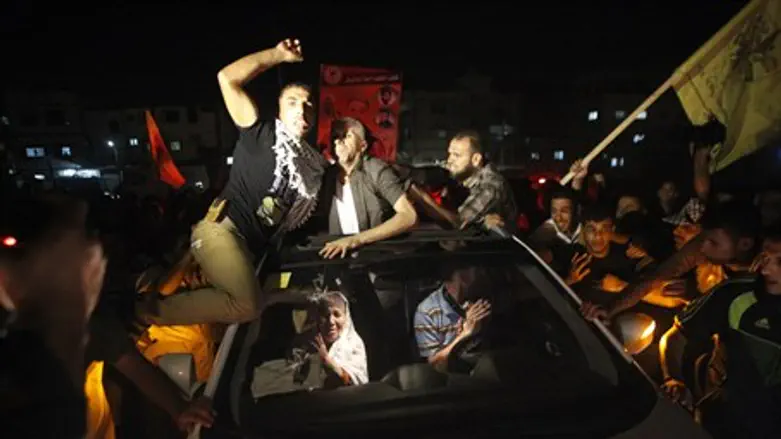 Released terrorists (file)
Flash 90
The Supreme Court rejected on Thursday a petition seeking a temporary restraining order on the third batch of 20 terrorist murderers set to be released early next week as part of peace talk "gestures." The planned release has evoked strong protests.
"With all due understanding of the petitioners' pain, their petition does not raise any legal ground for intervention. The claims have been raised and ruled on in the past," stated the judges.
Petitioners had called for the establishment of clear criteria regarding the release of terrorists, and the cessation of terrorist releases until then.
The petition was filed by five members of the Schijveschuurder family. Their parents and three siblings were murdered over 12 years ago in the Sbarro suicide bombing in Jerusalem that killed 15 and wounded 130. Ahlam Tamimi, who took part in the attack, was released in 2011 in the Gilad Shalit prisoner exchange.
With the rejection of the petition, Prime Minister Binyamin Netanyahu is expected to release the murderers next week, at the same time announcing new Judea and Samaria construction.
Bereaved father and current events analyst Dr. Aryeh Bachrach called Netanyahu a "scoundrel," arguing that he has been using building announcements to cover the releases as part of an act to fool voters.
The names of the terrorists to be released will be announced 48 hours before their release, to give a brief window for more Supreme Court petitions against the release.
MK Ayelet Shaked (Jewish Home) said Wednesday at a meeting with bereaved mothers that "the state of Israel is losing touch with the morality that characterizes any country, not to mention the morality that needs to characterize the Jewish country."
"I am in a state of desperation; if Binyamin Netanyahu does it, I don't know what to expect anymore," commented Shaked. "My hope is that we'll find a legislative solution by which we will get rid of the possibility of such release deals in the future."
Recently, the Supreme Court rejected a petition calling for the trial of Arab MK Hanin Zoabi (Balad) for taking part in the Mavi Marmara flotilla attack on the IDF in 2010.