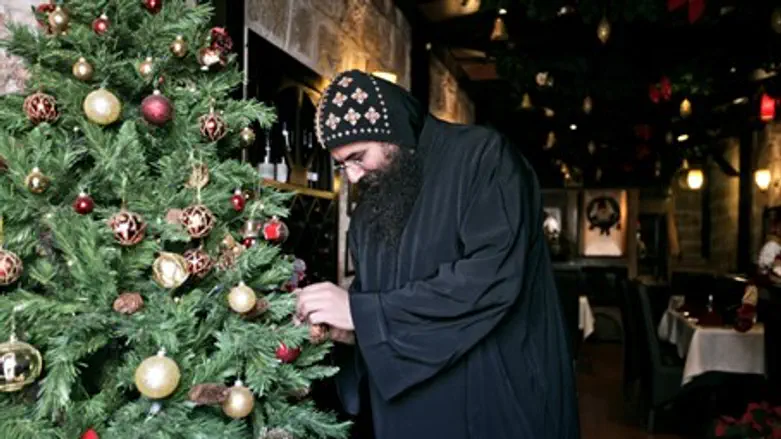 Monk with Christmas tree
Israel news photo: Flash 90
Israel has nothing against Christmas or Christmas trees, Knesset Speaker Yuli Edelstein said Thursday. The reason he did not sanction one in front of the Knesset had nothing to do with Christians – but with Jews.
Last week, MK Hana Sweid (Hadash), born to a Christian Arab family, formally requested that a Christmas tree be set up in the Knesset as a symbol of Israel's consideration for its Christian citizens, and the country's appreciation of its ties to the Christian world. In a letter to Edelstein, Sweid said that the installation of a tree would show that the Knesset would not tolerate so-called "price tag" attacks, in which Jewish nationalists are accused of marring mosques and other non-Jewish institutions and symbols after Israelis undergo terror attacks.
Sweid added that "many Jews put up Christmas trees as well," apparently referring to the Russian custom of putting up a New Year's tree. The tree is similar to the traditional Christmas tree put up in many Western countries in appearance, but is not linked to the Christian holiday.
In a letter to Sweid, Edelstein said that he would not put up an "official" Christmas tree in the Knesset, but that the MK was invited to set one up in her office.
Speaking to Israel Radio Thursday, Edelstein explained that he valued Israel's Christian citizens and did not mean to offend anyone. However, he said, the Christmas tree, like other Christian symbols, brought back bad memories for Jews, and as the Jewish state, Israel needed to ensure that its Jewish citizens were not subject to displays that would hurt their emotions.
"These symbols remind many Jews of how their ancestors were persecuted in Europe by Christians," Edelstein said. "There are many other ways for the state to pay tribute to its Christian citizens."
Among other official recognitions of the Christian holiday, Israeli law mandates that Christian employees of government offices receive the day off with pay. The National Insurance Institute also advanced the date it distributed this month's child allowance and welfare payments to precede Christmas, to ensure that Christian Arabs had enough money to celebrate properly.