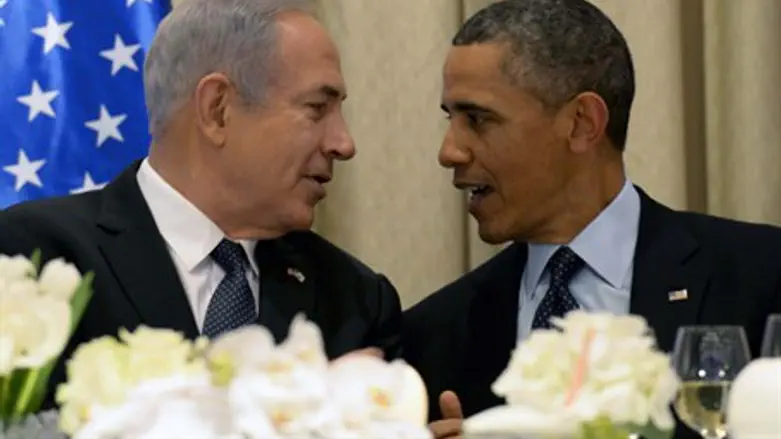 Netanyahu and Obama
Flash 90
Bereaved father and current events analyst Dr. Aryeh Bachrach slammed Prime Minister Binyamin Netanyahu in an interview with Arutz Sheva.   
Netanyahu is "a scoundrel" who is putting on an act on an international scale, he accused.
On Wednesday, it was reported that Netanyahu will issue building tenders for new homes for Israelis in Judea and Samaria (Shomron). The government also plans to release terrorist killers in the near future.
The entire story – the terrorist release, the building tenders, and even the American criticism of the building tenders – was all planned in advance, Bachrach asserted. "All the criticism of Israel is coordinated by the villain, the director Binyamin Netanyahu, who is freeing those who murdered Jews, those with blood on their hands. And stupid us, we bit our lips and take comfort in the fact that at least they're issuing building tenders," he declared.
The "building tenders" are a false promise, he charged. "This zero, this scoundrel, the Prime Minister and director of the play, issued building tenders for E1 as a fitting Zionist response to the Palestinian appeal to the United Nations. That was already more than a year ago and what has happened since?
"Yes, there is construction in E1 – but the ones building are the Palestinians, who are building in order to create 'facts on the ground' so the Jews cannot build," he continued.
Even the Palestinian Authority is part of the act, he said. "They shout out their condemnation. But don't worry, they're profiting from every stage of negotiations… They won't put an end to [the talks]. They'll keep getting more and more murderers of Jews, they'll keep welcoming them with honors, and they'll keep complaining about building tenders and condemning them and threatening to end negotiations," he predicted.
Justice Minister Tzipi Livni, who is directing Israel's talks with the Palestinian Authority, came under harsh criticism as well. Bachrach mocked her recent statement that Israel is negotiating with the PA, not with terrorists.
"Tzipi Livni announced that we are not holding any negotiations with those who plant bombs or with murderers, only with the good guys – Abu Mazen [Abbas] and his friends. True, Abbas didn't condemn the murderers, but he didn't personally plant any bombs, so we can talk to him," Bachrach said.
Dr. Bachrach's son Ehud and a friend were murdered by terrorists as they hiked in Wadi Kelt. The government is currently preparing to release a third group of terrorist killers from jail as part of a pre-planned series of "gestures" to the PA.