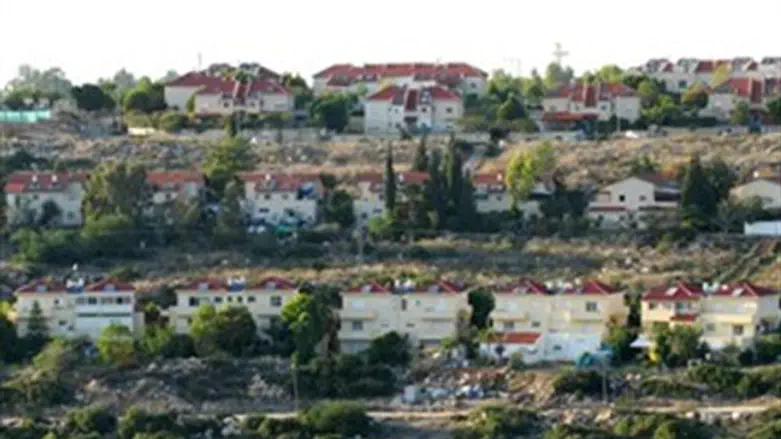 Judea and Samaria (file)
Israel news photo: Flash 90
Officials in the Palestinian Authority (PA) were outraged on Wednesday night, following reports that Prime Minister Binyamin Netanyahu plans to announce extensive new construction in Judea and Samaria.
That announcement is scheduled for next week, parallel to the next scheduled release of 26 terrorists from Israel's prisons, yet another "gesture" to the PA.
PA official Wasil Abu Yousif told The Associated Press (AP) that the expected announcement is evidence that Israel is "not serious" about pursuing peace.
"It's clear to everyone now that the Israeli government is killing the peace process," he said.
While stopping short of threatening to withdraw from the current round of peace negotiations, Abu Yousif told AP that Israel's policy would force the PA to seek "more substantial alternatives."
The PA's minister of prisoner affairs, Issa Qaraqe, blasted Israel over the link it has made between the release of terrorists and new construction.
"Equating the release of prisoners with settlement construction is not acceptable to us," he told NRG/Maariv.
"While the release of prisoners promotes the peace process and creates hope in people about the possibility of reaching an agreement, settlement construction destroys the possibility of progress between the two sides," claimed Qaraqe.
The PA's anger is not surprising, since previous announcements on construction have resulted in similar reactions. At one point the PA demanded that Israel cancel any tenders it has issued for new construction or the talks would be over.
The PA has repeatedly slammed Israel's planned construction in Judea, Samaria and Jerusalem, despite the fact that it was informed in advance that Israel will continue to build as talks continue. The areas in which Israel plans to build are areas that even the PA has previously accepted will be part of Israel in a future deal.
U.S. Secretary of State John Kerry has in the past said that Israeli announcements of new construction were expected and said that they should not affect the resumption of peace talks.
At the same time Kerry has declared that the United States has "always considered the settlements to be illegitimate."