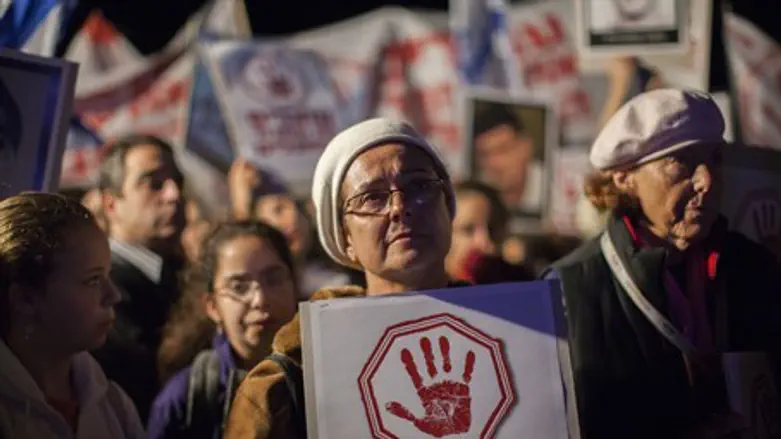 Protester against prisoner release
Flash 90
Protestors gathered for a mass demonstration Wednesday, as bereaved families took their problems with the upcoming terrorist release to the Prime Minister's doorstep. 
Or-Tal Tamam, niece of Moshe Tamam (z"l) who was murdered by terrorists during his military service, cut her classes for the day to protest.
"I will not sit quietly and not sleep at night while my country is losing its moral compass," said Tamam to Arutz Sheva. "I do not sleep at night - so Netanyahu will not sleep, either. I will stay here at least until next week and will continue to do everything to stop the release of terrorists."
26 terrorists are due to be released, in the third installment of releases scheduled as part of the negotiating process between Israel and the Palestinian Authority (PA). 104 terrorists will be released total. 
Tamam hopes that the tent where she is staying will soon be filled with people who will come to identify with her struggle.
"It's hard to get people out of the house and I'm not angry at anyone [for not attending]," she mused. "It's a shame that the government does not represent those who elected it."
The protest erupted hours after bereaved mothers met with Knesset members from all factions and called for a halt to the release.
"I call on the Prime Minister to reconsider the release of terrorists given the recent terror attacks," declared Deputy Defense Minister Danny Danon at the meeting.
"In a normal country in which a bus blows up on Sunday, a police officer is stabbed on Monday, and a worker fixing the security fence is shot to death on Tuesday, terrorists would not be freed the following week as a 'gesture,'" Danon argued.
Protests across the country snowballed in October, during the previous terrorist release. The demonstrations culminated in an emotional protest outside of the hotel room of US Secretary of State John Kerry and a petition submitted to the High Court to stop the releases.