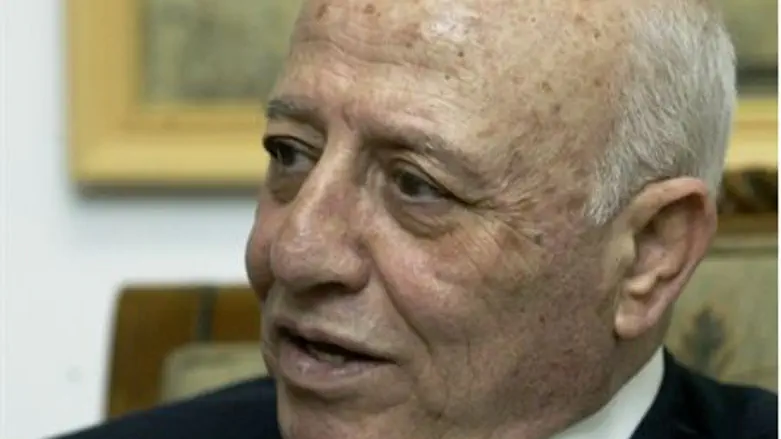 Ahmed Qureia (Abu Ala)
Flash 90
Former Palestinian Authority (PA) Prime Minister Ahmed Qureia was arrested on Saturday by police at the entrance to Maaleh Adumim, just east of Jerusalem.
Qureia's Mercedes car was racing at 145 kilometers per hour (90 mph) on a road with an 80 kph (50mph) maximum speed limit.
The car's driver ignored requests by Judea and Samaria police to stop, forcing them to block the road with a police car.
After being stopped, Qureia's car was held for roughly 2 hours as passengers refused to open the doors or windows of the car, reports Kikar Shabbat.
Eventually with the involvement of General Eitan Dangot, Coordinator of Government Activities in Judea and Samaria, the car was allowed to continue. Qureia, the driver and another passenger were summoned for investigation
The Judea and Samaria-based Arab Ma'an News Agency initially claimed the former prime minister was arrested "for no particular reason."
This is not Qureia's first run-in with the law on the roads.
In 2010, the former prime minister had his diplomatic privileges revoked by Israel after he threatened that the PA would have to resort to violence if peace talks fell through. Qureia tested Israel's resolve by attempting to drive over the Allenby Bridge into Jordan, where he found his way blocked by IDF soldiers.
In early December it was reported that Qureia accused Jews of "defiling" the Temple Mount with their presence. The Temple Mount is the holiest site in Judaism.