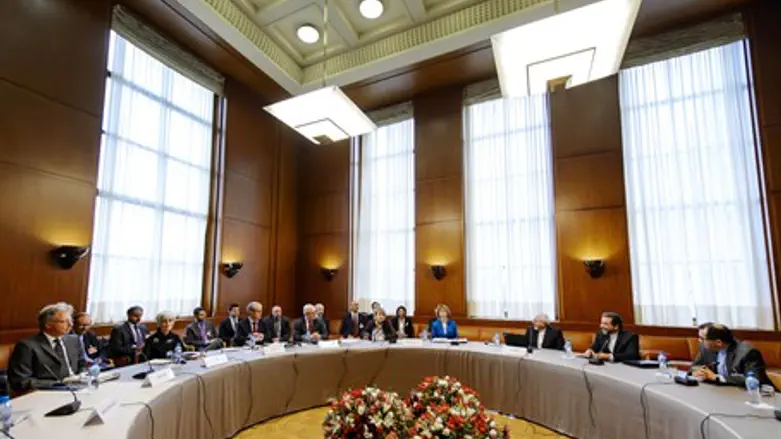 Iranian, P5 1 delegations in Geneva October 1
Reuters
Iran and six world powers resumed expert-level talks in Geneva on Thursday, Reuters reports.
The talks aim to work out how to put into practice a deal obliging Tehran to curb its nuclear program in return for some relief from economic sanctions.
Discussions on the details of last month's breakthrough accord were interrupted by Iranian diplomats last week, after a decision by the United States to blacklist 19 more Iranian companies and individuals.
On Wednesday, both the EU and Iran confirmed the talks would resume on Thursday. Iran's deputy foreign minister Abbas Araqchi explained that Tehran was prepared to continue the talks after the EU "made the assurance that the world powers, particularly the United States, will continue the talks in goodwill and that they are serious about implementing the deal."
Diplomats said much progress had been achieved in the four-day meeting on December 9-12 in Vienna, and expressed hope they could wrap up the practical discussions at meetings in Geneva on Thursday and Friday.
"We were at an advanced stage in Vienna," a diplomat from one of the six world powers told Reuters. "A lot of work has been done so we can go very fast."
The diplomat, who spoke on condition of anonymity, cautioned, however, that some western diplomats were concerned Iran could be "more difficult" in the technical discussions because of Washington's decision to expand sanctions this month.
On Sunday, Iran's Foreign Minister, Mohammad Javad Zarif, said his country will keep talking with world powers on its disputed nuclear program despite the U.S. blacklist.
Zarif expressed Iran's "discontent" in a phone call with Secretary of State John Kerry, the Iranian news agency Fars reported on Monday. The State Department confirmed the call took place.
Washington said last week that the new measures did not constitute new sanctions, which the West agreed not to impose as part of the Geneva deal, but were rather part of the previous sanctions regime.
Meanwhile on Thursday, senators continued to promote legislation that would impose new sanctions on Iran, causing President Barack Obama to threaten to veto any such legislation.
Senior Iranian officials attacked the American administration on Wednesday for "breaching" the nuclear deal made last month.
Along with the broadside against the U.S., Iran's military made several announcements, including a top official's boast that "Iran is the fifth missile power in the world."