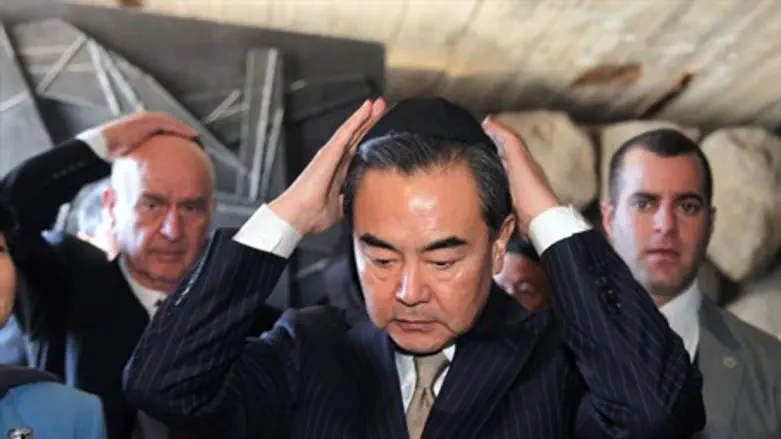 Chinese FM Wang Yi visits Yad Vashem
Flash 90
Amid signs of an emerging alliance between the two nations, Israeli Foreign Minister Avigdor Liberman met his Chinese counterpart Wang Yi on Thursday, welcoming Wang's first visit as another step in strengthening bilateral relations.
As part of the rapidly warming ties, the two agreed to upgrade the annual national dialogue between Israel and China to a more senior level.
Liberman in late November called on Israel to search for new allies amid tense relations with the US over the Iranian nuclear deal. The growing closeness with China is considered to be one of the new alliances Liberman spoke off.
In addition to generally easing the process of receiving visas between the two countries, so as to encourage tourism and business ties, the two ministers agreed to sign an agreement in the near future that would let diplomatic and service passport holders travel without needing a visa.
On this issue of visas, Liberman added that "Israel is interested in joining the Chinese program allowing national passport holders to enter China for up to 72 hours without a visa."
Furthermore, Wang and Tourism Minister Uzi Landau expressed their desire to encourage airlines to expand their flight service between the two countries.
Wang's visit included a stop at the Yad Vashem Holocaust Memorial Museum, where he emphasized his country's opposition to anti-Semitism, and committed with Liberman to cooperate on the issue of memorializing the Holocaust.
The two foreign ministers spoke of regional issues as well.
Liberman stressed that Israel is an island of stability in the changing Middle East, and expressed Israeli concerns over Iran's efforts to obtain a nuclear weapon, develop missiles, and spread terror in the region.
"When the Iranians talk of destroying Israel they mean it, and we treat the threats with all seriousness," remarked Liberman.
Liberman further praised US Secretary of State John Kerry's efforts in peace talks with the Palestinian Authority (PA), saying "Israel is serious in its intentions to reach an agreement." He added that he expects the PA to refrain from unilateral steps with international bodies, a move that "doesn't contribute to the peace talks but rather hinders it."
The governmental China Israel Economic Task Force was praised by the two, who called for continued efforts in strengthening bilateral ties.
At the end of the meeting, Wang invited Liberman to visit China again to continue advancing bilateral relations.
President Shimon Peres met with Wang as well, saying "the world, in which China is a major player, should help the Iranian people to divorce themselves from the policies of threats and hostilities to prevent (Iran) from acquiring nuclear capability."
"We must maintain the diplomatic pressure; ensure the sanctions regime remains effective to force Iran to comply with the inspections and limitations which the international community demands," stressed Peres.
On Wednesday talks between Iran and the P5+1 group of world powers, of which China is a member, were scheduled to resume.
There have been some complications over the rapprochement with China.
On Tuesday, the family of an American killed in Israel in a terrorist attack accused the Israeli government of folding to Chinese pressure and "sabotaging" a lawsuit against the Bank of China for allowing the transfer of funds for terrorist groups.
According to the Wultz family, whose 16-year-old son Daniel was killed in a 2006 Tel Aviv suicide bombing by Islamic Jihad, Netanyahu agreed to pull a key witness in return for a key visit to China in May with his family.