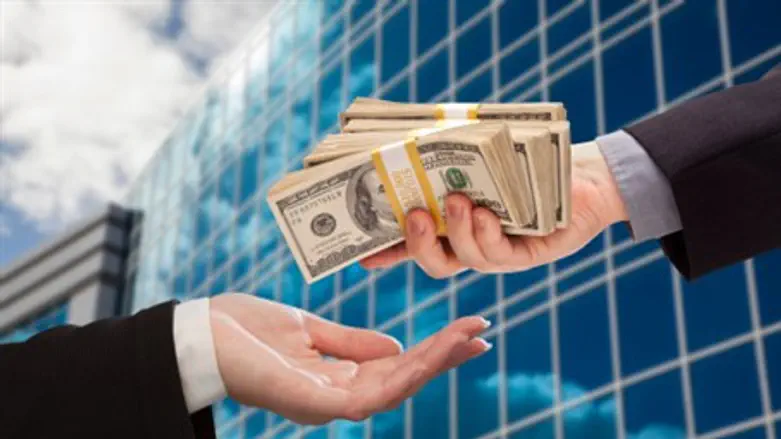 חלק מהכסף יועבר למדינה
Thinkstock
The Ministerial Committee for Legislation approved the "NGO Law" Sunday by a large margin of 8 to 4 despite opposition from Justice Minister Tzipi Livni (Hatnua). Livni said that she intends to appeal the decision. This means that the Committee will have to vote on the bill again at a later date.
Bills approved by the Committee stand a very good chance of passing in the Knesset, because they can expect to have the Coalition's support.
The law is a joint initiative of MK Ayelet Shaked (Jewish Home) and MK Robert Ilatov (Yisrael Beytenu) and its purpose, according to the explanatory notes attached to the proposal, is "reducing the involvement of foreign political entities in Israeli democracy, which is carried out through financial support to NGOs whose actions or goals deviate grossly from the limits of democratic discourse."
The bill, once enforced, will impose a 45% tax on foreign donations to seditious NGOs.
Groups affected by the tax would have to meet one of the following criteria: calling for boycott, divestment, or sanctions (BDS) against Israel or Israeli citizens; calling for the prosecution of Israeli soldiers in international courts; denying that Israel is a Jewish democratic state; incitement to racism; or supporting an armed struggle by an enemy nation or terror organization against Israel.
Ronen Shoval, Chairman of grassroots Zionist student organization Im Tirtzu, had sent a strong letter to Prime Minister Binyamin Netanyahu urging him to support the law earlier this week.
In his letter, Shoval brought a quote from former Supreme Court president Meir Shamgar, who expressed his displeasure regarding the financing of NGOs by foreign countries. Shamgar stated in 2012, "I think that support of political bodies by foreign governments is something that should intimidate any person who believes in true democracy," and called foreign funding for organizations that are meant to influence the government "abnormal."
Shaked, who initiated the bill, stated that "it would be too easy to take the bait and listen to statements which claim that this law violates democracy in Israel."
"In fact, any person with healthy reasoning and a clear understanding knows that the opposite is true. In a civilized, democratic country there are choices which reflect the will of the people and portray, through voters' decisions, the state's outlook," she continued. "It is inconceivable that a minority of extremists who don't wish to give a 'mandate' to Israel, and participate in criminal acts of subversion against the state by financial means from foreign benefactors, will also receive tax breaks."
"Undermining the sovereignty of the government is tantamount to failure to respect the will and decision of the people," Shaked declared. "High taxes on foreign money to organizations that incite against IDF soldiers and incite to racism are the minimum that the state can and should do for itself."
MK Ilatov, acting chairman of the Coalition, added that "Israeli NGOs may not receive benefits from the State of Israel when they are funded by entities whose sole desire is to meddle in Israeli democracy and to undermine national interests and security of Israel. These associations have anti-Zionist and anti-Jewish motivations, and should receive no tax benefits from the state."
MK Avi Wortzman (Jewish Home), Deputy Education Minister, stated, "The law is a clear statement against all those organizations that operate under the guise of protection of human rights and in doing so crudely trample democracy in Israel." Wortzman noted that "MKs from across the political spectrum support the law" and that most parties support the IDF, which is ridiculed by the extreme Left for "protecting Israel and its citizens."
"Any country that seeks to contribute to these organizations must know that it undermines the character and stability of Israel," Wortzman concluded, "and that [now], half of the donations will go to the State of Israel and strengthen the IDF."