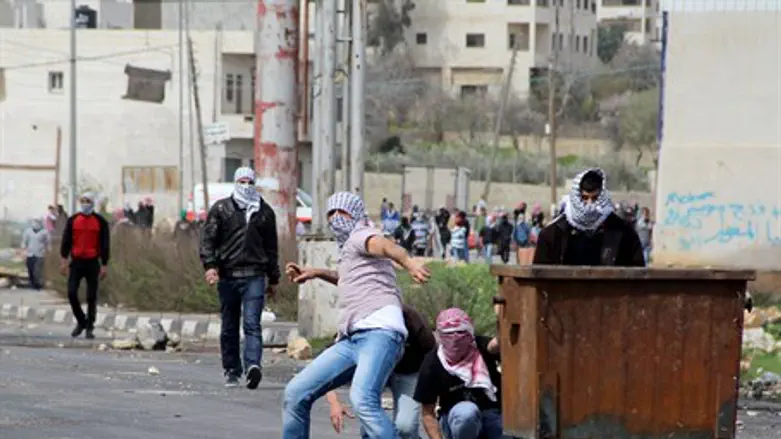 Arab rioters throwing rocks
Flash 90
Arabs hurled rocks at a bus as it approached a stop in the Gilo neighborhood of Jerusalem on Monday afternoon.
A police investigation into the incident has found that the Egged Route 32 bus was making its way to the stop when suddenly a crashing sound was heard as rocks shattered the windows of the bus.
Police officers who were called to the scene began searching the area for the rock throwers. The passengers were evacuated from the area. There were no reported injuries.
Just last week, two-year-old Avigail Ben-Tzion was seriously injured by Arab rock-throwers in Jerusalem.
Arab terrorists hurled rocks at the car she was travelling in the Armon Hanatziv neighborhood in southern Jerusalem. The incident was just the latest in a string of violent attacks on Jewish motorists by Arab extremists in Jerusalem.
Avigail was taken to the Hadassah Ein Kerem Hospital and was released Sunday.
Arutz Sheva has reported on many occasions about rock attacks targeting Jews in Jerusalem, Judea and Samaria and other areas of Israel.
Rock attacks can be lethal, as was the case in an attack in September of 2011 which targeted Asher Palmer and his infant son Yonatan. The two were killed when an Arab terrorist hurled large rocks at their car.
In another incident, three-year-old Adelle Biton was critically wounded in a rock terror attack in Samaria in March.