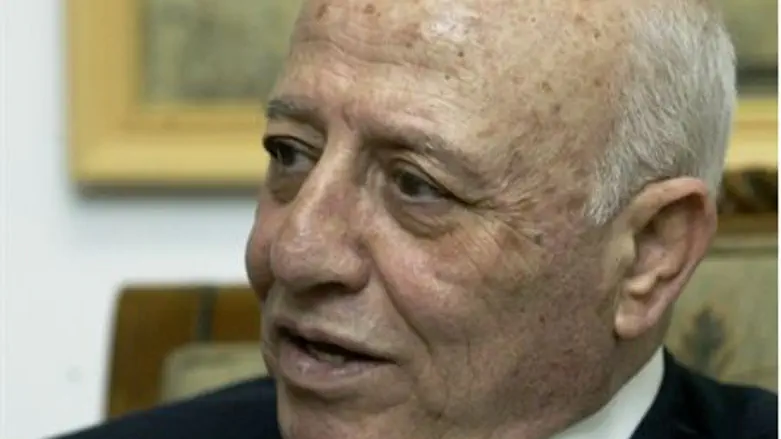 Ahmed Qureia (Abu Ala)
Israel news photo: Flash 90
Ahmed Qureia, a former "prime minister" of the Palestinian Authority (PA) and a senior official in the Palestine Liberation Organization terrorist organization (PLO), claimed Sunday that "International involvement in Al-Quds (Jerusalem) enables Israel to continue its 'occupation', and for settlers to continue to defile some of Islam's holiest places." 
The references were to the Temple Mount, which is Judaism's holiest site. While Israel technically has some control over the Mount, there is systemic anti-Jewish discrimination on the Mount due to pressure from Arab lobbying organizations on international bodies.
As such, it is permitted for Muslims and Christians to visit the site - but Jews, to whom the site is sacred, are forbidden from prayer, religious activity, and often even from visiting the site. 
Earlier Sunday, Jewish visitors celebrating the Hanukkah holiday at the site where the events of the Hanukkah story unfolded, were arrested on grounds of performing forbidden ritual activities. This resulted in a scuffle and the closing of the site to visitors. 
In a press release to PA news agency Wafa, Qureia demanded that the international community, Islamic countries, and human rights groups demand a total withdrawal of Israel from all of Jerusalem - not to mention the Temple Mount. 
Qureia also urged the Jerusalem municipality to issue demolition orders in Jerusalem against Jews, claiming dozens of houses are built without a permit, an action contrary to international law, he said. Qureia insisted that Israel was purposely perpetrating "colonialism." 
The remarks follow more inflammatory remarks by Muslim leaders and PA officials in the wake of demands by MKs to give Jews equal rights to the Mount.