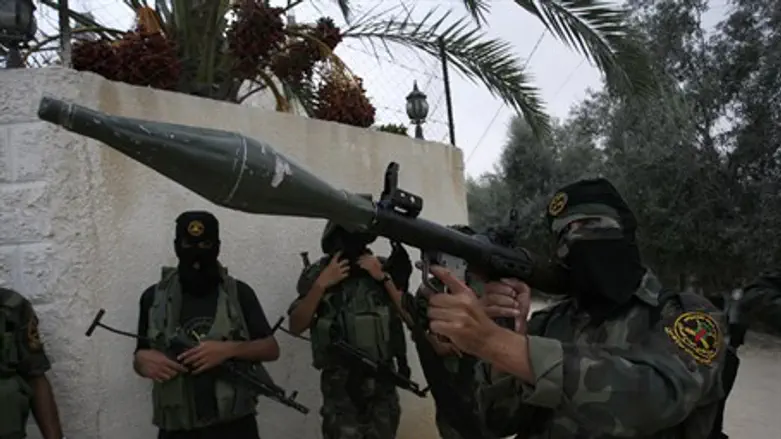 Islamic Jihad terrorists in Gaza
Flash 90
The Islamic Jihad terrorist group has called on "the Palestinian people" to rebel against the Palestinian Authority in Judea and Samaria, and urged them not to respond to summons for questioning by PA police as an act of defiance.
The Iranian-backed Islamist group has harshly criticized the PA and its security forces over a series of "political arrests", as the PA - which is dominated by Mahmoud Abbas' secular Fatah party - has sought to consolidate its control over Judea and Samaria by rounding up members of rival factions.
At a press conference in Ramallah, senior Islamic Jihad figure Sheikh Khader Adnan said that the PA's security forces forces rule the "West Bank" (Judea and Samaria) with an iron fist, and that those who oppose them "end up like Yasser Arafat". Those comments were a possible reference to one of the many rumors circulating about the former PA chairman's death, in which rival factions opposed to Abbas have intimated that the current PA leader was involved in "assassinating" him.
Adnan further accused the PA of using its arsenal of "70,000" guns "against the Palestinian people" instead of "the occupation" - i.e. Israel.
The call comes just two days after Israeli security forces thwarted an apparent terrorist campaign which would have targeted both Israel and the Palestinian Authority.
Three "Salafist" terrorists were killed Tuesday in a joint IDF-Border Police operation in the Arab settlement of Kfar Yata, near Hevron, after receiving credible intelligence of an impending wave of attacks. Security forces at the scene found weapons and explosives in their possession, indicating that an attack could have been imminent.
Islamist groups regularly criticize the Palestinian Authority for not complying with Islamic law, as well as for what they see as its betrayal of "jihad", by engaging in talks with Israel.
In 2007, the PA was ousted from Gaza by Hamas, the Muslim Brotherhood-linked Islamist group which now rules the coastal territory. Since then, both Fatah and Hamas have cracked down on rival groups, although Islamic Jihad is largely tolerated in Gaza by Hamas authorities, who share much of the group's radical Islamist ideology and often cooperate with it.