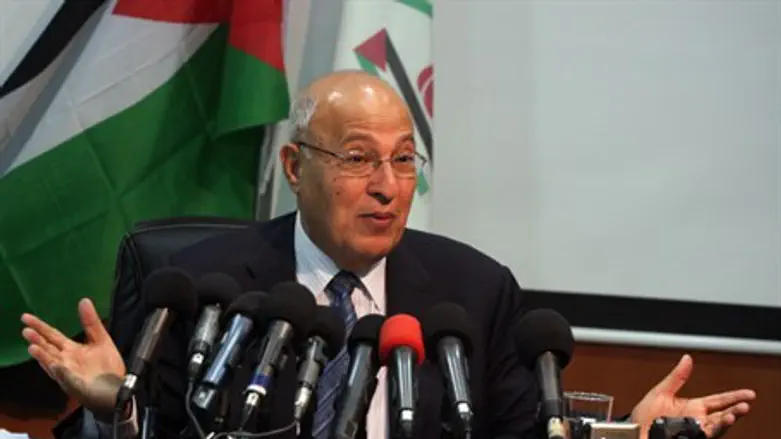 Nabil Shaath
Flash 90
Nabil Shaath, one of the senior officials in the Palestine Liberation Organization (PLO), warned on Tuesday that the PLO was prepared to join international organizations since peace talks with Israel have failed to result in a breakthrough after five months.
Speaking to the Ma'an news agency, Shaath, as usual, blamed Israel for the stalemate in the talks, which restarted in July.
"The negotiations are falling on deaf ears," Shaath said, adding, "The distance between us and them is huge, and that is apparent in the statements of their leaders regarding Jerusalem, the West Bank and the (Jordan) Valley."
He proceeded to note that the PA still has the "weapon" of going to international organization including the International Criminal Court if Israel continues to impede peace talks.
"There are 35 conventions that do not need approval to join, on top of them is the Rome Statuette," he said, referring to the 1998 treaty which established the ICC.
He said PLO negotiator Saeb Erekat would continue his work in a caretaker capacity until the leadership met.
Erekat and another negotiator, Mohammed Shtayyeh, presented their resignation to Palestinian Authority Chairman Mahmoud Abbas earlier this month, but Shaath noted that the resignations had not been formally accepted.
Shaath added that the only reason the PA leadership had not sought membership in more international organizations was to avoid giving Israel an excuse to not free 52 remaining terrorist prisoners that it had undertaken to release as a "gesture" to the PA.
"There are organizations that await our application, and ask us when are we applying," he told Ma'an.
The UN admitted the Palestinian Authority as a non-member observer state in November of 2012. Since that time, Abbas has taken several steps to officially name the areas he controls "the State of Palestine".
Abbas has been urged by PA officials to enroll the PA in as many international organizations as possible as quickly as is feasible, in order to capitalize on the recognition received at the United Nations and use its standing in the international community to sue and prosecute Israel.
Before the peace talks restarted, Abbas promised to U.S. Secretary of State John Kerry that he would suspend all unilateral measures through United Nations agencies to give peace talks a chance.