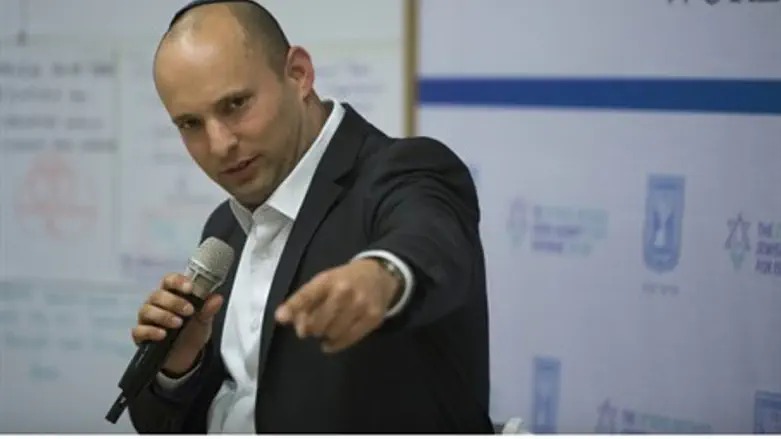 Economy Minister Naftali Bennett
Flash 90
Economics Minister Naftali Bennett, who has been on a mission in the US over the past few weeks to prevent Sunday's deal between Western powers and a nuclear Iran, has released a scathing response to the breaking news. 
"We awoke this morning to a new reality. A reality in which a bad deal was signed with Iran. A very bad deal," Bennett stated on his Facebook page. "This bad deal gives Iran exactly what it wanted: a significant easing of the sanctions while retaining the most significant parts of its nuclear program."

Bennett emphasized the long-term implications of the deal, stating that "if a nuclear suitcase blows up five years from now in New York or Madrid, it will be because of the deal that was signed this morning."
The remarks provide a telling rebuttal to claims by Iranian President Hassan Rouhani, an alleged moderate, that "Israel is only concerned about its own interests, and it does not think about the interests of the world."
Bennett also vowed that Israel will not take the news lightly. "There is still a long campaign ahead of us," he continued. "We will continue to act in every possible way."

"It is important that the world knows: Israel will not be committed to a deal that endangers its very existence," Bennett concluded. 
Those comments come soon after the Jewish Home party head made similar statements in an interview with Army Radio, declaring that Israel is not bound by the deal.
"Israel is not engaged by the Geneva accord," he said, in a statement to Army Radio. "Iran is threatening Israel and Israel has the right to defend itself."