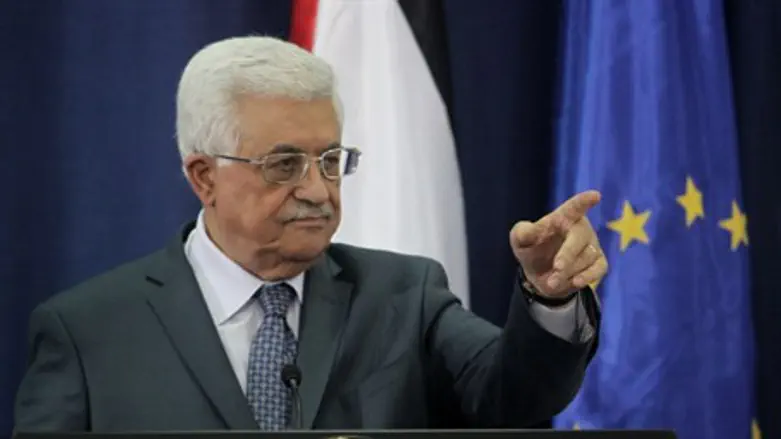 PA Chairman Mahmoud Abbas
Flash 90
Palestinian Authority Chairman Mahmoud Abbas on Friday responded to Prime Minister Binyamin Netanyahu's invitation for him to come speak in the Israeli Knesset.
Netanyahu's call came in a speech he gave this week during a visit to Israel by French President Francois Hollande.
"Come to the Israeli Knesset and I'll come to Ramallah," Netanyahu said. "Get up on this platform and recognize the historical truth: the Jews have a nearly 4,000-year-old link to the land of Israel. The Jews are a people with a right to self-determination," he added.
Abbas, speaking to Voice of Russia radio ahead of his visit to Moscow in December, responded by saying that he was willing to come to the Knesset but would not say what Netanyahu expects to hear.
"You know, Netanyahu comes up with an offer and then immediately puts forward his own terms – that this and that should be said and so on. No, if those terms are put forward, I do not accept that," he declared. "But if he wants me to come and say the things I want to say, then I am ready to do it – but only in order to say what I want to say and not what he wants to hear."
Asked when he thinks a Palestinian state will be established, Abbas responded, "When Israel realizes the need to establish peace in the Middle East, then there will emerge a Palestinian state with the capital in holy Jerusalem."
The PA Chairman said that, among other things, his visit to Russia will deal with the peace talks with Israel, which resumed this past summer.
"We have always had very good and trustful relations with Russia. We are long-standing friends. And therefore, we conceal nothing from our friends. On the contrary, we want to inform the Russian leadership about the course of the talks," he said.
So far little progress has been made in talks and there is a wide rift between the positions of the two sides.
The PA has repeatedly slammed Israel's planned construction in Judea, Samaria and Jerusalem, despite the fact that it was informed in advance that Israel will continue to build as talks continue. The areas in which Israel plans to build are areas that even the PA has previously accepted will be part of Israel in a future deal.
Abbas last week delivered an ultimatum to Israel, saying that unless it cancels tenders for 20,000 new homes in Judea and Samaria he would end the ongoing peace talks.
He later announced that PA peace negotiators intend to pull out of peace talks because of "increasing settlement building (by Israel) and the absence of any hope of achieving results."
On Sunday, however, Abbas appeared to change his tune, telling AFPthat talks with Israel will continue for the full nine months as agreed with Washington "regardless of what happens on the ground."
This week, during a visit to Ramallah, Hollande slammed Israel's building in Judea and Samaria - but he also said he expected the Palestinian Authority to make "efforts" regarding peace. 
"It is clear that this will require efforts from the Palestinians as a number of Israeli settlements will remain," a member of Hollande's entourage said.
(Arutz Sheva's North American Desk is keeping you updated until the start of Shabbat in New York. The time posted automatically on all Arutz Sheva articles, however, is Israeli time.)