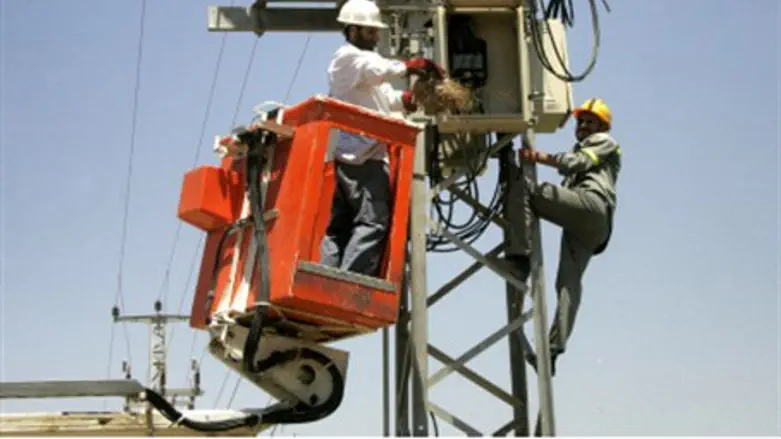 Gaza electricity workers.
Israel news photo: Flash 90
Imad al-Daelis, economic adviser of Hamas leader Ismail Haniyeh, said that talks were underway to increase the volume of electricity Hamas purchases from Israel, after 3 weeks of an Egyptian siege on the terrorist state.
The Israel Electric Company already provides over 1/3 of Gaza's electricity - despite numerous terror attacks by Hamas to kill Israeli forces and civilians alike, and despite Hamas's continued public statements threatening genocide against the Israeli and Jewish peoples. 
In an interview with Anadolu Agency, Daelis stated that "[t]he agreement with the Israel Electric Company to supply additional power will help solve the crisis and will need to use the unused power plant due to lack of fuel needed to run it."
He said the Hamas government submitted its proposal in this regard Israel's Electric Company through the private sector - and that an agreement has been made - but this also requires the restoration of local power grid at a cost of millions of dollars.
Egyptian politician Imad Hamdi, from the Egyptian Popular Front, has criticized the move, calling Hamas hypocritical. Hamdi pointed out that Hamas is guilty of using Israel's resources despite denying its very existence, and stated that Hamas is not effective as a resistance movement against Israel. 
Hamdi's remarks follow reports that Haniyeh has also sent his 1 year-old granddaughter for medical treatment within Israel's borders - despite vowing to take down the government providing the treatment and continue to support genocide against Israel. Doctors at a Petach Tikva hospital eventually determined that the girl could not be treated and returned her to the military dictatorship. 
Gaza has been deteriorating since the siege, suffering blackouts and sewage overflow.