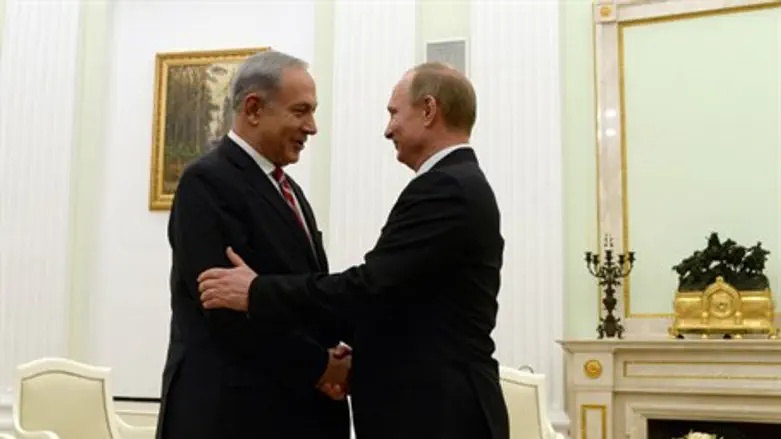 Netanyahu and Putin, Nov. 2013
Flash90
Prime Minister Binyamin Netanyahu insisted on Wednesday on the need for a "real" solution to the Iranian nuclear crisis, after talks with Russian President Vladimir Putin in Moscow, AFP reports. 
Putin said that the two men discussed the Iranian nuclear standoff "in detail" at Kremlin talks which ran several hours past their original schedule. Netanyahu insistent that only the strongest of diplomatic solutions was acceptable for Israel's security and safety.
Netanyahu's visit to Moscow was seen as a last-minute bid to influence an emerging nuclear deal being discussed by world powers and Iranian diplomats in Geneva, a deal strongly opposed by the Jewish state.
"We would all like a diplomatic solution, but it needs to be a real solution," said Netanyahu, adding that this would involve Iran halting nuclear work in the same way as Syria was allowing its chemical weapons arsenal to be destroyed.
Iran would have to halt uranium enrichment, stop work on centrifuges, have enriched uranium material taken out from Iran and dismantle the Arak heavy water reactor, he said.
"We think it is possible to get a better agreement but that requires determination," Netanyahu warned. Israel has never ruled out the use of force against the Iranian nuclear drive. A poll recently revealed that most Israelis prefer the military option, which many believe has a greater chance of success. 
Speaking as the talks got under way in Geneva between Iran and world powers, Putin for his part said he hoped that "in the nearest future a mutually acceptable solution is found" to end the crisis.
"As the consultations in Geneva showed, there is a possibility this can be done. I hope that the talks that resumed today in Geneva bring results," Putin said.
Russia is a member of the P5+1 group -- alongside the United States, China, France, Britain and Germany -- which has been struggling to reach a deal to freeze or curb Iran's nuclear activities in exchange for some relief from international sanctions.
Israel is staunchly opposed to the mooted interim agreement, insisting it will give Iran vital sanctions relief while failing to halt Tehran's alleged march towards a "breakout" nuclear weapons capability.
Netanyahu has said the deal would prematurely ease sanctions against Iran without getting it to halt uranium enrichment or stop work on the heavy-water reactor.
The last round of talks with Iran that ended on November 10 came close to a framework agreement that supporters say would bolster Iran's new president Hassan Rouhani, a reputed moderate, and buy time for negotiating a comprehensive deal.
Israel's deputy foreign minister, Ze'ev Elkin, said his country did not expect a radical change in Moscow's stance. "Russia is not about to espouse the Israeli position," he told public radio, ahead of taking off to Russia with Netanyahu. "But any small budge could influence the whole process."
Earlier this week, an Israeli official stated to AFP that the goal was to encourage Russia "to have a better understanding of our concerns and the need to prevent Iran from having a breakout capacity."  
"A breakout capacity means that they have the capability to develop a nuclear weapon at a time and a place of their choosing in the future," the official added. 
Netanyahu's full statement following the meeting urges world leaders to reconsider the move. "For Israel, the biggest threat against us and against global security is Iran's effort to arm itself with nuclear weapons. Both of our countries have a common goal: We do not want to see Iran with nuclear weapons."  
He continues, "Israel's approach is that the international community needs to insist on its positions as expressed in UN Security Council resolutions, i.e. to halt all enrichment, to remove all enriched material, to dismantle the centrifuges and to stop building the facility in Arak. I would like remove any doubts."
"We want a peaceful, diplomatic solution; everyone prefers this over any other solution. But this must be a genuine solution. There is much to learn from the solution in Syria regarding the chemical weapons. There, Russia and others correctly insisted on the full dismantlement of Syria's chemical weapons."
Israel has refused to rule out military action to halt Iran's nuclear drive. Washington has also insisted it will strike if necessary to prevent Tehran from developing a nuclear weapon.
France has also been behind a military option - or at least stopping a potentially disastrous Iran deal - drawing ire Wednesday from Iranian dictator Ayatollah Khamenei. ""Wherever people are to confront their enemies they have to overcome the will of the foes," he said. France responded by stating that "Khamenei's comments are unacceptable and complicate negotiations." 
Netanyahu and Putin hold joint press conference, Nov 2013
Flash90
Netanyahu and Putin shake hands after press conference. Nov 2013
PM, Putin meet to discuss Iran, Nov 2013 Flash90