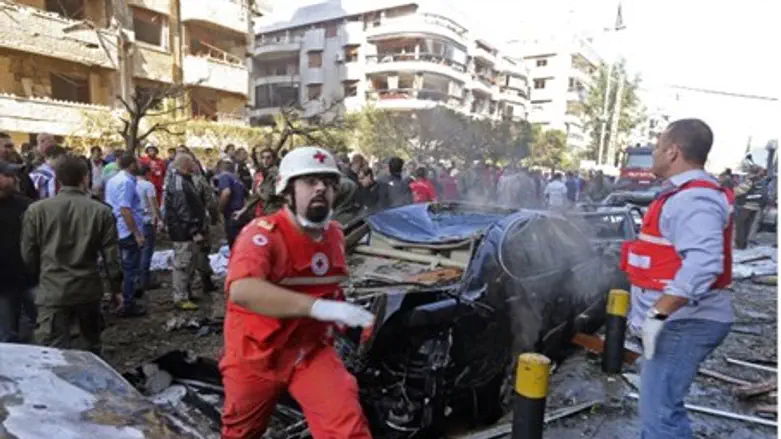 Scene of Beirut blasts
Reuters
A Hezbollah MP has blamed a "Western-Israeli alliance" and regional powers that back radical Sunni Islamist "takfiri" (radical) groups for Tuesday's deadly suicide bombings near the Iranian embassy in Beirut, AFP reports.
"The aim (of the attacks) is to advance the program of murder, sabotage and chaos, threatening national unity and targeting stability," the MP, Mohammad Raad, was quoted as having said.
"The program is being followed by a Western-Israeli alliance, whose interests intersect with those of regional powers and takfiri groups," he claimed, according to AFP.
Tuesday's mid-morning blasts ripped through a stronghold of  Hezbollah, where the Iranian embassy is located, killing 23 people and wounding 146.
An Al-Qaeda-linked terrorist group calling itself the Abdullah Azzam Brigades has claimed responsibility for the attack.
Hezbollah, backed by Iran, is a key ally of Syrian President Bashar Al-Assad's regime and has deployed fighters to support loyalist troops in the country's civil war.
Hezbollah's involvement in the Syrian war has resulted in a deep sectarian gulf in Lebanon between Shiites and Sunnis, many of whom support the anti-Assad revolt.
Tehran also accused Israel of carrying out the blasts in Beirut.
The bombings were "an inhuman crime and spiteful act done by Zionists and their mercenaries," Iranian foreign ministry spokeswoman Marzieh Afkham said in remarks carried by the official IRNA news agency.
The attack was the latest in a string of attacks that have struck Lebanon in recent months.
A car bomb hit the southern suburbs of Beirut on July 9, causing no fatalities, and again on August 15, killing 27 people.
Eight days later, two car bombs hit the northern city of Tripoli, killing 45 people.