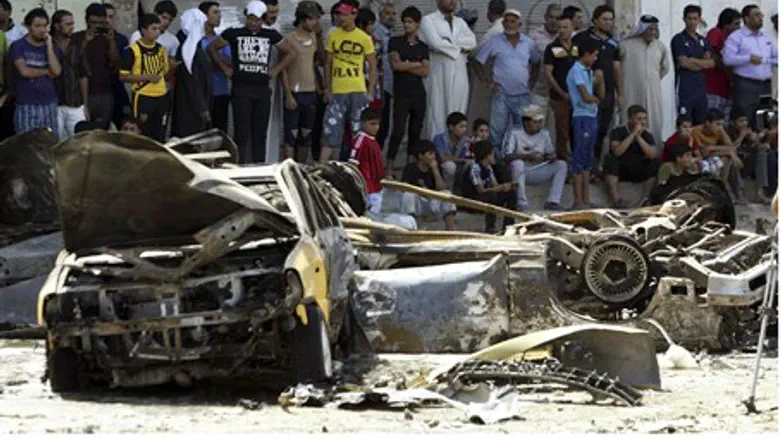 Illustration: Site of Al Qaeda bomb attack in
Reuters
A senior Al Qaeda commander has sought to clarify a fatwa (Islamic religious ruling) by Al Qaeda head Ayman Al-Zawahiri, in which he urged jihadi groups to avoid targeting civilians.
Speaking to Al-Wasat newspaper, Nasr Al-Aanisi, a commander of the Yemen-based Al Qaeda in the Arabian Peninsula (AQAP), explained that Al-Zawahiri was only referring to "operations" in Muslim countries - and that American civilians are still fair game.
"The group's position and the fatwa it applies is that the Americans are a combatant nation, and the statement [which Al-Zawahiri issued] was addressing non-combatants," Al-Aanisi said in the interview, which was translated by the Middle East Media Research Institute (MEMRI).
MEMRI describes Al-Aanisi as a veteran jihadi, who has fought in numerous 'jihadi fronts', including Afghanistan, Bosnia, and Kashmir.
His clarification of Al-Zawahiri's fatwa does appear to be consistent with recent statements by the Al Qaeda chief in which he praised the Boston Bombing - which specifically targeted American civilians - and called for more "lone-wolf" attacks of the same kind.
Al-Aanisi also reaffirmed Al Qaeda's opposition to participation in democratic political processes, saying that it would be an implicit acceptance of the very western systems the group is fighting to destroy.
"Giving up weapons while sharia [Islamic law] is being made absent and people are being ruled by man-made laws means agreeing with the situation. As for forming a political party, our position is clear regarding democracy and parties," he said.
He added that recent events in Egypt - in which Mohammed Morsi, a democratically-elected Islamist president, was eventually ousted from power in what he termed "a clear military coup" - was a "lesson" to other Islamist groups against abandoning violent jihad to take part in elections.
The decision by the Muslim Brotherhood to take part in Egyptian elections was harshly criticized by Al Qaeda leaders at the time, highlighting an age-old ideological dispute among Islamists over the issue of political participation. That very dispute was in fact one of the pretexts for former Brotherhood member Al-Zawahiri to break away and eventually help found Al Qaeda.
Al-Aansi's announcement will be seen as a validation of the assertion by US officials that AQAP is Al Qaeda's most dangerous branch.
Back in August, the US closed nearly two dozen of its embassies throughout the Middle East after receiving intelligence that Al-Zawahiri had been coordinating a major terrorist plot along with AQAP leader Nasser al-Wuhayshi.