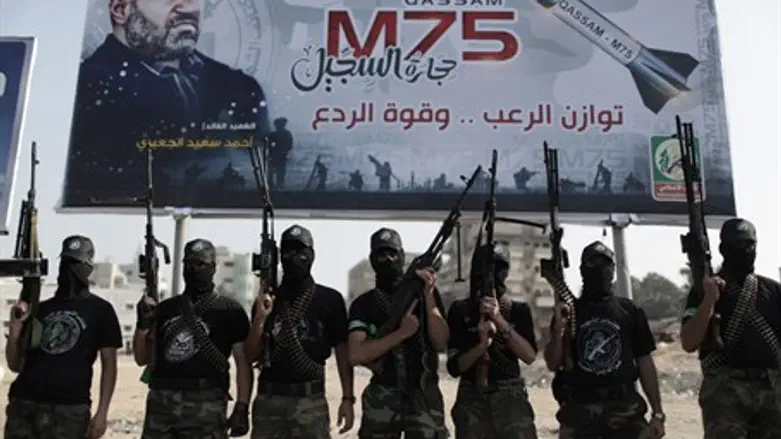 Friendly bunch: Hamas mark year since Gaza Op
Flash 90
Mushir al-Masri, a top Hamas terrorist and member of the PA parliament, declared that a 'calm' or cease-fire period with Israel was the best time to prepare new tactics against Israel's alleged "aggression" - both above and below ground. 
Speaking on behalf of Hamas at the College for Science and Technology in Khan Yunis on Monday, al-Masri emphasized that the next conflict with Israel would be underground, and that "we will enter your homes, your schools, your positions and your strongholds." 
Al-Masri also added that the terror organization now has missiles capable of a 100-km radius - capable of reaching Jerusalem and Tel Aviv - in its possession.
Ramadan Shallah, leader of terrorist partner Islamic Jihad, mentioned in a conference call that in regard to last year's Operation Pillar of Defense, Hamas will hold out against future clashes with Israel and maintain control over the region. Shallah also said that Hamas will persevere despite any negotiations between Israel and the Palestinian Authority - and that an armed conflict is still the best way to defeat Israel for control over the Middle East. 
The news follows the IDF destroying last month's "terror tunnel" and recent skirmishesalong the Israel-Gaza border, which have reminded Israelis that the war with Hamas is far from over. The IDF has reportedly released a comic book in response to recent Hamas attacks, which will explain the uglier truths about Hamas in light of efforts to clean up its public image.