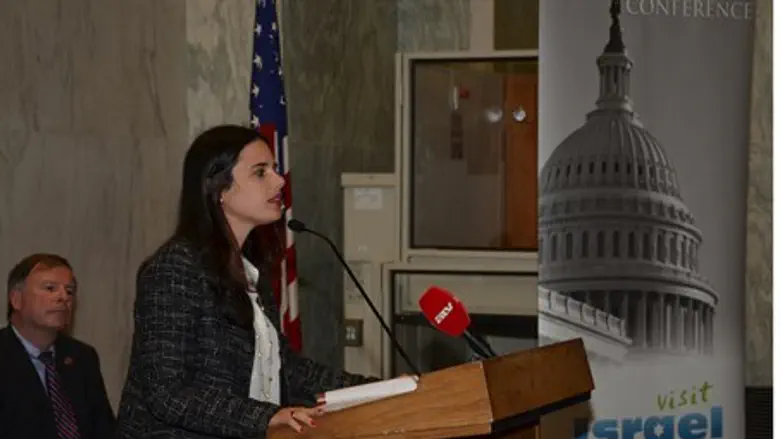 Ayelet Shaked in Washington
Jim Innes
MK Ayelet Shaked (Jewish Home/Bayit Yehudi) spoke in Washington Thursday night, warning about a nuclear Iran and proposing that Arabs in Judea and Samaria will be citizens of Jordan, while Gaza will be independent or annexed to Egypt.
The Jewish Home MK spoke before American and European politicians at an event hosted by former MK Benny Elon and attended by members of a pro-Israel lobby.
Shaked's speech came the same day as Jewish Home chairman Naftali Bennett spoke in Washington. The two are in the US as part of a visit to push policy makers to oppose a bad deal on Iran that would allow the Islamic regime to maintain its nuclear weapons program.
In talking about peace talks with the Palestinian Authority (PA), Shaked noted that talks have always led to "waves of terror." Warning of disastrous results if Israel were pressed into agreements now, Shaked added "the international community is important to us...but we will not allow it to push us to commit suicide."
Instead of the "failed two state solution," Shaked promoted a different solution of pushing economic growth in Judea and Samaria which supports local Arabs as well.
She further proposed that "in the distant future most of the Arabs who now live in Judea and Samaria will become citizens of Jordan, and the Gaza strip will be an independent entity or annexed to Egypt."
Reportedly most Judea and Samaria Arabs already have Jordanian citizenship following Jordan's occupation of those areas in the 1948 War of Independence.
On Iran, Shaked echoed Bennett's warnings that their nuclear program threatens the whole world and must be stopped, and that Israel would not outsource its security.
Iran's 18,000 centrifuges continue spinning, Shaked said, and "facilities like Parchin, where Iran has been working to build the nuclear weapon itself, remain off limits to United Nations inspectors."
Shaked began her speech by noting that she is a Tel Aviv native, and that she continues living there despite various terror attacks because the Jewish connection "to the land of Israel is a link to our very roots and defines who we are."