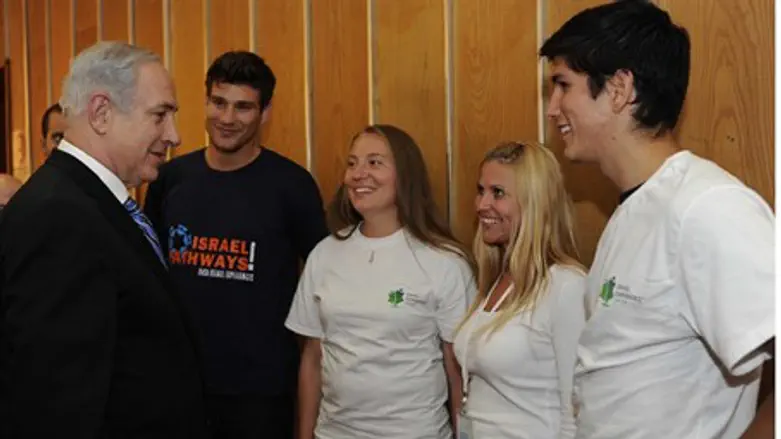 Netanyahu with Masa participants (file)
Sasson Tiram
The Jewish Agency's Masa Israel project will mark a decade since its founding in a Jerusalem event on Thursday after a record year of participation. Survey results find that 77% of participants of the project feel connected to Israel.
This year, the project enjoyed a record 11,000 participants from 62 different countries, as young Jews from around the world come to study and volunteer in one of 250 different programs in Israel for extended periods of time. The project aims to strengthen ties between Israel and the Jewish world.
The event Thursday, which will be held in Jerusalem with the attendance of 3,000 of the international participants, will feature addresses by Prime Minister Binyamin Netanyahu and Jewish Agency Chairman Natan Sharansky.
A survey conducted by Masa found that after the program, 79% of participants said they were proud of their Jewish identity, 77% felt connected to Israel, and 66% said they want to marry a fellow Jew.
After being in the project, 20% of participants make aliyah (immigrate to Israel), while many of the rest go on to serve as active supporters of Israel in their home communities.